Today we are going to remember the rules to operate the dome, of which I will make like the original pendant.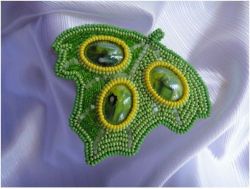 For work we need:
3 green glass cabochon;
Beads yellow, different shades;
Pale green cutting;
Beads light green (size 9);
The interlining;
Banana paint that can be used for coloring the fabric;
Glue, a needle for embroidery with beads, thread the right color and a small piece of leather to make the back side of the pendant;
To begin with we take our non-woven fabric and folded it in several layers. Then passed through her iron to all layers of our billets are well stuck together. And cover all prepared paint. This step is necessary for us in order to prevent the shedding of the nonwoven in the process, plus such shade, if you can not the beads everywhere put tightly just to blend in with all colors.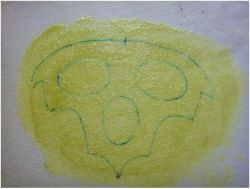 Draw the outlines of the future of the pendant, celebrating the center – it will be easier to position the dome. Place them on the put places and glue. To start embroidery immediately after the glue dries.
Embroider, seam back a needle, each step – 2 beads green color. Do not worry if the cabochon starts to come off, the second row of braid will make it stay in place.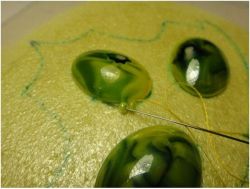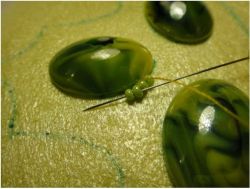 For the next row we use seed beads 10 yellow. As it smaller size, it forms a narrower circle, which would tie the cabochon to the fabric.
Therefore sheathed all 3 of the cabochon.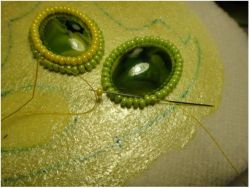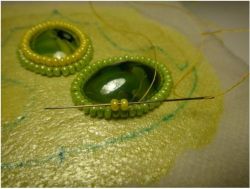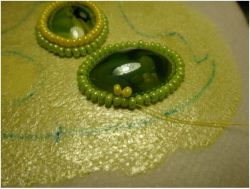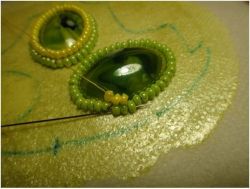 Further formed by the veins of leaf with caramel green felling, and the remaining space is filled with beads of green.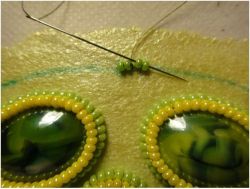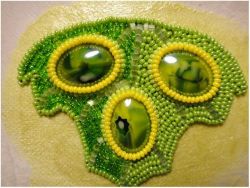 Next, design the reverse side. To do this, apply our blank-sheet of paper and draw it out first on a piece of thick paper, then on a piece of leather. It all cut out and first to the reverse side glue a sheet of paper, then leather.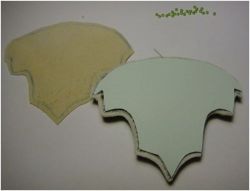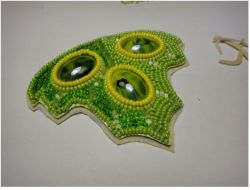 Now the trick: to sheathe pendant to hide the layers. And in the end when everything is finished, weave braid Ndebele few rows in the upper part of the leaf, forming the handle.