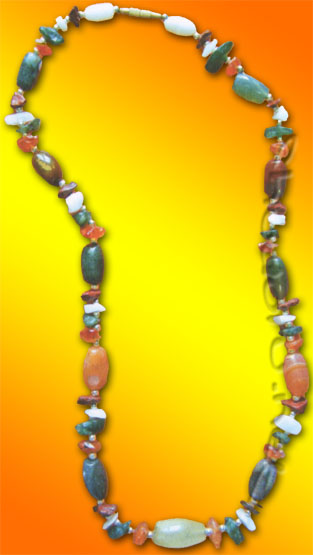 You will need: beads of various shapes of semi-precious stones combined colors (white, green, beige etc), plastic spacer beads gold, fishing line, screw clasp, scissors.
On the fishing line tie a knot and wear him for one part of the clasp.
The stringing is carried out by separating each beads of stone from the neighbouring with gold beads in the dividers in the following order: one oval bead four beads of various shapes. So to continue to the end to the desired length of beads.


The last string on the second part of the clasp, tie a knot, so he went inside of the clasp.
If beads of semiprecious stones faded, covered with a film of fat dirty from constant wear and contact with the skin, then return them to their former beauty can hold them for several hours in a solution of detergent, or washing in a weak solution of ammonia, at the rate of 10 drops of alcohol to one glass of water.
Some stones do not like moisture, so they can only be cleaned with a suede or flannel cloth.