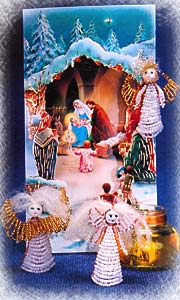 Size: height 5-6 cm
You will need:
1 bead with a diameter of about 10 mm;
beading white and gold;
wire with a diameter of about 0.2 mm;
thread the silk or nylon hair.
Technique: parallel nizana on the wire
The model diagram: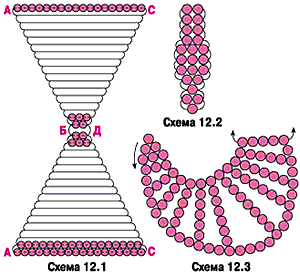 The dress is woven on the wire length 150 cm for CX. 12.1: for the 1st row to score 18 of the beads, then weave another 16 rows, reducing the number of beads in each row for 1 thing (thus in the 17th row will be 2 beads).
Continue to weave in the reverse order: 18th row: 2 beads, then add in each row, 1 piece, up to 18 beads per row. To bend the item received, the database and the remaining ends of the wire to connect both edges of the dress along the lines AB and CD. With a pencil to give the dress a rounded shape.
Head: cut a bundle of filaments with a length of 10-15 cm (angel hair), brush them with a needle if the thread is nylon. In the middle of the wire with a length of about 70 cm perpendicular to it to put a bunch of threads, wire bend in half and tightly obratiti the bundle of threads. Both ends of the twisted prologi to wear bead and attach the resulting head to the dress. On the left the long ends of the wire to weave the hand of the angel scheme 12.2.
Wings: weave a gold or white bead on the wire length of 50 cm scheme 12.3 and then attached to the dress. The shape of the wings can be modified at will.
Ready angels can be hung on the Christmas tree or placed on flat surface, creating a desired composition.