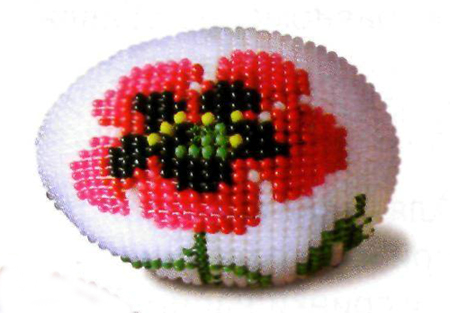 Materials and tools:
wood harvesting of eggs;
beads round white, yellow, red, black and two shades of green flowers of medium size;
line No. 25 or the thread for beading;
needle bead.
Execution
This egg is quite a difficult pattern, but it's worth the risk! If you are a little trained in the technique of hand weaving, the task will seem easier. Most importantly - choose the colors of the beads according to the pattern, and the technique is a little worked! If you chose for braiding this egg beaded fishing line, the case will stretch, a little stretched and tight to the workpiece. In the case of drying the workpiece, this will not affect the quality of the product. But make sure that there are no gaps with the ropes without the beads! When you weave the thread can not guess the number of beads — it requires practical skills. We recommend you to start with the fishing line. The weave pattern of the cover shown in Fig. 1. The main band balls beaded in bold line. Each cell corresponds to one bead of the corresponding color.

Note
It is desirable to select at first if the billet has already been done to the belt, and the number of beads out of the girdle does not have to conform to the schema, but it is better to add or subtract beads for the background and not the main picture! At the tips can be approximately 5-6 teeth depending on the shape of the egg bead.