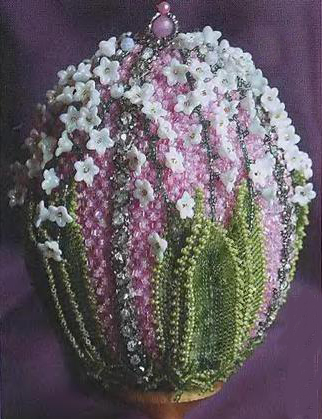 Materials:
beads
cutting pink and green tones
silver faceted beads
beads silver
beads flowers white or mother of pearl
pink bead
piece of wood 28 cm in circumference and 12 cm in height
Execution:
Appetite billet pink beaded (belt - mesh according to the scheme in Fig. 1 and the crown of peyote).
Embroider two girdle faceted beads and appetite silver beads according to Fig. 2.
Make sprigs of Lily of the valley in figure 3.
Egg bead decorated with leaves. Weave 8 leaves unsewn.
Spipe 4 leaf stitched.
Embroidered entire surface of the balls with pink bead and cutting (Fig. 4).
3акрепите not stitched leaves, turning length.
3акрепите sprigs of Lily of the valley.
Secure 5 stitched leaves on top are sewn.
Install on top of the egg beaded pink bead.