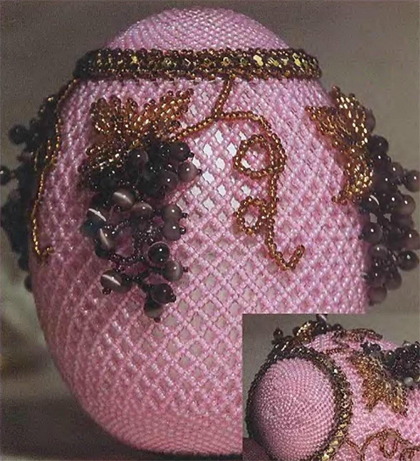 A well-known proverb: "Expensive egg to the day of Christ". And what could be better than a gift made with his own hand. A few jars of beads, a modicum of diligence and patience, a little love to the planned business - and in your hands Easter egg, made with love and thoughts of the person you are going to give it as a gift. This time we offer you to weave a simple
Easter egg bead
, decorated with bunches and leaves of grapes. On the basis of the piece of wood that pletetsya beaded pink color in the technique grid.
Materials:
beads: pink, purple, gold two shades;
beads: faceted gold, purple;
piece of wood is 24 cm circumference and 10 cm in height.
Execution of work:
1. Paint wooden blank with acrylic paint pink.
2. Appetite billet pink beaded (belt - mesh top - mosaic weaving).
3. Weave in Fig. 1 and secure it to the upper border of the netting and peyote stitch.
4. Make four vine-twigs on the Fig. 2.
5. Weave the leaves for each twig (3 leaf in the technique of thick oblique weave).
6. Secure the twigs and the leaves evenly around the circumference of the egg.
7. Embroider individual branches.
Easter egg beaded
finish. We can safely give it on a holiday or create a whole collection of those beautiful Souvenirs.