For weaving beads is more important than the machine itself, how well a stretched thread. That is why it is possible to make the machine themselves, using available materials. By the way, here is a machine for weaving beads ideally: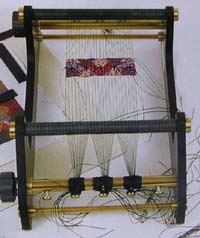 Unfortunately, I have not seen such on sale in Moscow (hope that I'm not in all the stores visited - and suddenly somewhere I missed). Bead tent at ENEA sold here such machine:

It costs around 300 rubles. I do not like: too short (nothing longer than baubles on hand to weave unlikely). The picture shows that its design is quite simple, and I think that any man (assuming the presence of hands growing from the right place, and the necessary tools) is able to do this for his girlfriend/wife.
Generally, a homemade machine is almost perfect: you adjust the machine to fit your needs, and not the machine dictates to you what length and width can be your product.
So let's look at another homemade machine: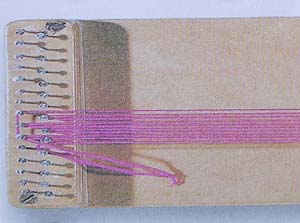 It is this: at the ends of a wooden plank fasten the nut with a height of 4-6 inches. Hammer with two sides plates small nails at a distance of 3 mm from each other. Okay, you can pull the thread and get to work. Also can give useful advice: make the machine so that the middle can be inserted one or several boards with the aim of extending the machine (in case you want to weave a belt or something long).
But what if your husband/boyfriend not as a class or is at work, and to weave like right now? Then you have to take care of everything. Consider a few ways of making a machine without nails/hammers/files. Use feminine tools.

Surely you have some kind of box. Shoe or just eaten cake :) firstly, you can use the cover from the box (if it is high enough to skip under the taut threads of the arm with a needle). The procedure is the following: take the lid and stretch a circle of thread. So they did not slip off can be done on the edges of the box cuts equal to the width of the beads and put the thread in these cuts.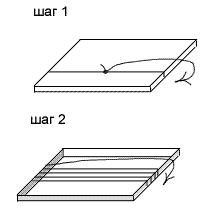 For the manufacture of machine you can use the box itself. Cut it in half diagonally and pull thread: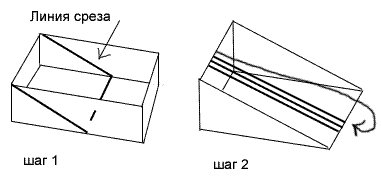 Here's another way. Attach two identical combs with a suitable distance between the teeth with tape to the edge of the table. Pull between the teeth and the thread can start to weave.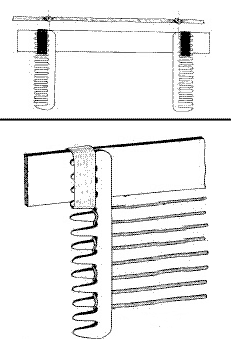 And finally, the last known to me method of making devices for weaving. Especially good for woven pictures. Does a plastic or wooden frame, the edges of cuts at equal intervals. The distance between the cuts should be approximately equal to the size of the beads, from which is woven the product.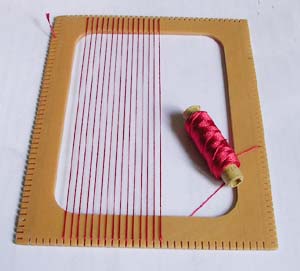 That's all. If you know any other way and want to share it - email, I'd be happy to Supplement this article