Very interesting bracelet, the principle of netting which is simple to outrageous. Thin, sleek, it looks great on the wrist.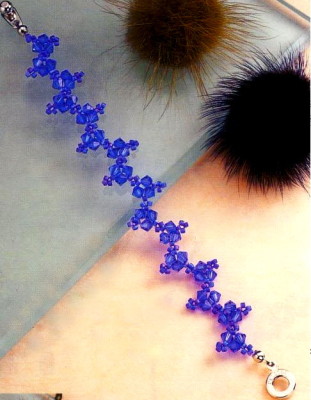 In order to weave this bracelet we will need:
Ordinary seed beads No. 11 or 10
4 mm bicone
Clasp
Select all the components in the tone, in this case they have blue. A very juicy shade that will stand out well on the wrist.
Start with the fact that record on the line clasp. Should remain after this two free tail, to continue on.
Crossed both tail filaments strung bead. Then, on each tail, string on one more bead and cross them in the next bead strung. We have obtained the first segment of our bracelet.
Next, take each tail in one round. Now we are working on will involve only the left tail. We strung him 4 beads, and closes the circle. For this, the return period of the line in the first strung bead for this segment. We get a flower.
Now the same tail strung bicone, and crossed the right and left tails of fishing line strung next to the bead. Continue to weave until the bracelet reaches the desired length. But don't forget to alternate the rows. That is, one step for the left tail, the other for the right to flowers went through one.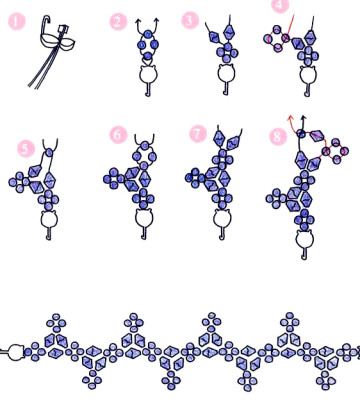 Once you've finished weaving the bracelet, fasten the second part of the clasp. All the extra tails cut the fishing line and hide the bracelet is not blooming, trim them at the very root is not recommended.
Work on this bracelet as you have seen, will not take much time. Just an hour and you are the owner of the new fine jewelry that can be worn in combination with a sport style or a dress, a light summer sundress, or shorts.