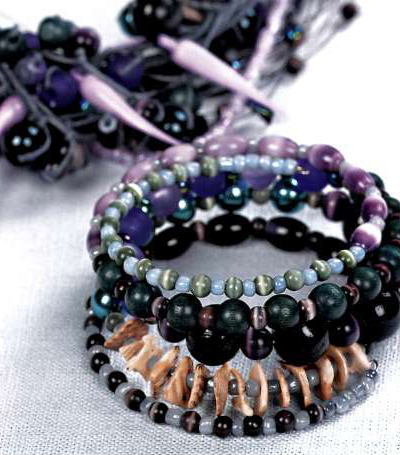 Necklace and bracelet from beads with their hands in purple tones is a simple, but striking decoration.  
Materials:
the thick gray thread
black fishing line
beads of different colors and shapes
beads
toggle clasp for beads
wire for bracelet
Tools:
Execution:
1. To make the necklace, cut 15 lengths of fishing line with a length of 65 cm and 15 pieces of thread with a length of 80 cm To one of the strands of thread lock at a distance of 12-15 cm Tie 7 knots to make a "leg". Fold together all the threads and pieces of fishing line, the ends of the lines should be shorter by 5-7 cm and Tie a knot so that the leg with the lock was on the site. Sear the ends of the lines, the strands cut flush with the line.  
2. Thread on which are strung clasp, then wrap the bundle of filaments and the woods, folded it in the place where you tied the knot. Wrap in the direction of the castle, the windings will not stop sliding down and will not start to block the site. Press the string with your finger, make a loop, thread it twice in the thread end and tighten the knot. The thread is cut along the length of the folded tail.