Continue to spread the schemes of weaving a variety of jewelry from beads. This bracelet will perfectly complement your jewelry box, especially since this simple circuit beading bracelet will be clear to all, even those who are just starting to be interested in beading.

For work, we'll need beads of different colors, if you are just starting, it is better to take the solid material.
It all starts with the netting of the circle. Strung on fishing line or monofilament 11 beads and closes it all, returning the thread to the first bead.
Then strung on thread 5 beads, and again returned the needle in the first bead. But don't extend and go further, through 2 and 3 from last round. And only after that the thread is drawn.
String 6 beads and formed another circle. To do this we need to go through the beads, which in the diagram are marked with numbers 13, 12, 2, 3, and 17.
Next round we have a very small and formed of 3 beads, the thread should exit 18 beads.
For each next round beads make a row of 3 beads. Until we reach the beads with No. 20.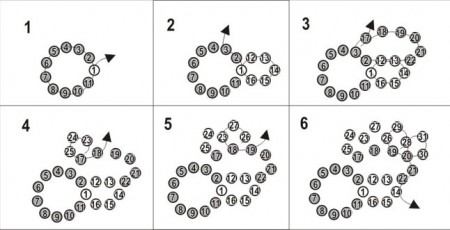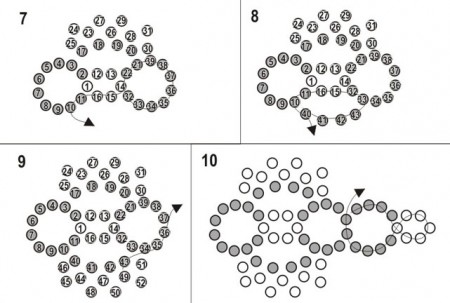 Then send the thread through the beads, straight to 14. Then string another 10 beads and lock a number in a ring.
The following series reflect the ones we did for the formation of the upper part of the fragment. In General, the first scheme was just explaining the essence of weaving our bracelet as a whole. Everything else is just their recurrence. So all becomes clear once you start.

Bracelet length, the number of slices depends on the thickness of your wrist. So in the process of weaving it is better to try on the workpiece. And after everything is ready, will only make the clasp. A few of the options you will find on our website. But, if you do not want to use beads, you can buy ready-made at the store.