Memory hardened steel wire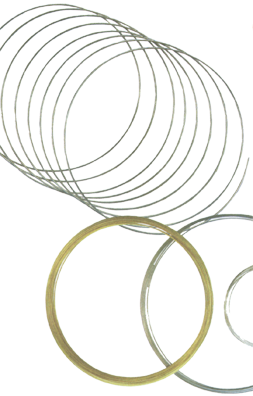 The wire retains its original shape and does not require locks when used. This wire is often called a spring wire. For jewelry you will need wire Golden and devoured flowers,, measuring 0.7-0.8 mm.
Steel wire with memory effect is stronger than ordinary wire, so the jewelry will be strong, durable and will not be deformed when worn.
The wire is sold as springs of different diameters. The large diameter of the spring is used for neck ornaments, and small diameters are well suited for bracelets and earrings. Another advantage of the wire: it is cut into segments with wire cutters, which perfectly hold the shape and are combined into unusual details for jewelry. The most commonly used spring wire two diameters-5.5 cm and 11.6 cm.
To work with wire and cut it into segments of a certain size you need to know the circumference which is l = 2?R, where R is the radius of the circle, PI = 3.14.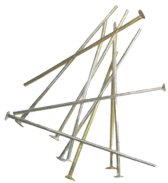 t-shaped carnations (pins) 5 cm long
pins are usually Golden and silver and of different lengths. It is best to fit a 5 cm long pin, as you can reduce the length of the stud if necessary. Having cut off a hat slices, it is possible to use a carnation as a connecting link, having formed loops from two parties.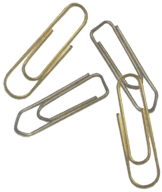 0.9 - 1 mm thick Golden-coloured Staples or wires
Paper clips are a very convenient material for jewelry. They are made of different materials, but we need paper clips without spraying, as when bending and unbending it exfoliates and spoils the appearance of the product. Paper clips also vary in thickness.
Fixtures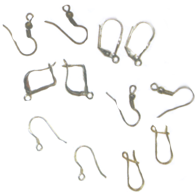 - is the hook for hanging the earrings on the earlobe. Usually shvenzy pick up the color of the wire, which is used in the decoration. If the decoration is mixed, the schwenz is chosen by the predominant colors. Metal shvenzy with silver and gold coating are inexpensive, but you need to pay attention to their quality when buying. Copper earrings, earrings with surgical steel and Nickel silver, silver and gold more durable and hypoallergenic, but they cost much more expensive.
Fishing line for needlework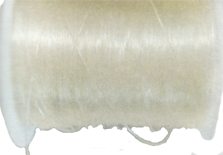 Fishing line — durable and reliable material for stringing beads, stones and beads. Varies in color and thickness. In order not to buy a large number of colorful skeins of fishing line, it is better to use a colorless — it will fit any beads and will be almost invisible. But use for weaving fishing line is not necessary, since only the needlework fishing line when melting ends can form strong decorative balls.
Jewelry cable

Consists of a thin twisted wire in a plastic shell. This is a quality and durable material. Jewelry rope is used as a basis for beads, necklaces, chokers and complex weaving on the frame. It is suitable for producing strong and rigid structures.