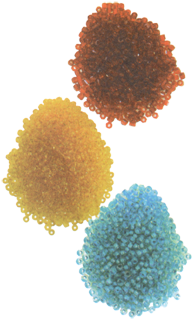 Czech beads
Unlike many different types of beads, it stands out Czech quality and variety of colors and shapes. It can be faceted, transparent, matte, coated, with an internal coating, color. The quality of Czech beads is expressed in excellent calibration, evenness of beads, the same size and shape. Cheaper beads often of irregular shape, the beads in the stringing fall badly. The product turns out uneven, deformed, beveled. Cheap beads are not suitable for symmetrical wire ornaments, where you need clarity and uniformity of lines. It is important before working or buying beads to check how it is strung on the wire. The diameter of the inner hole must be greater than the diameter of the wire. This also applies to beads. Before operation, check that the holes of the beads was wide enough for stringing on one or several wires depending on the model of decorations.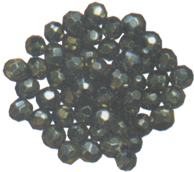 Metal beads
You'll need round faceted metal beads with a diameter of 0.4 cm Cut of these beads creates a delicate metallic iridescence.
Glass beads of various shapes, cuts and colors.
Can be oval, round, cylindrical. In addition, some models require flat faceted colored glass crystals with a diameter of 0.5 cm.
Natural stone beads of various shapes, pearls.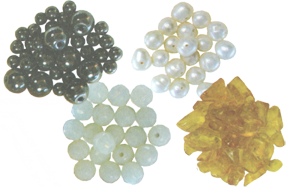 Stone chips with holes, which is often called the head, felling, chips, stones with irregular shape. You will need a stone crumb of amber color and black color, a crumb of crystal and pieces of coral with holes, as well as beads of hematite of various shapes.
Pendants
Pendants can be made of beads, beads and decorative elements, and you can buy ready-made. To create jewelry you will need ready-made pendants-double-sided plastic with the image of a female head in bronze, and Golden double-sided in the form of three-dimensional hearts.
Rondeli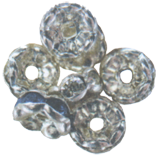 Rondeli is a very beautiful and delicate decorative material. Two metal cups with crystals recessed along the perimeter create a colorful glow and bring a zest to any decoration. For more tight anchoring of the crystals in a Cup of drip around the perimeter of the clear nail Polish. The varnish will fill the free space and solder the crystals on the ground.