This necklace can be done at any age. It is so simple to implement that will not cause difficulties even for children.

To work you need to prepare chenille stems. If you don't remember or don't know what it is and what it looks like, refer here to this article. Here we are using them to do a very simple and cute wreath. In addition to this you will need any ribbon and beads of different textures. Actually, what is interesting is the shape of the beads, the more attractive will the suspension itself.
First we need to make the parts in the shape of hearts. To do this, take our stick chenille stems, and strung her beads in random order. After this it remains only to tie together the loose ends, and to shape the heart of our low.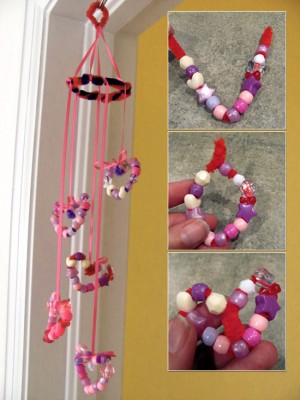 But then you will need prepared ribbons and laces. We bind them to our heart elements, and delay until the side.
Arrange the top. For it, we will use the same sticks. One will be the loop that will allow you to hang the product over a door, a window, or just on the ceiling chandeliers. And the second will be a circle that will hold the elements.
Collect all this stuff together. First, attach the laces on wide ring base, then tie a loop. In principle, the work is done, is left to hang the finished model at your selected location and you can enjoy the creation of their hands. Time it took very little, and as a result your interior added another interesting thing made with your own hands. Very well this pendant will look great in the nursery for girls.