Woven on a needle. Product length - 45 cm (internal diameter). To give a description of netting is not necessary, as in the figure depicts all pretty transparent: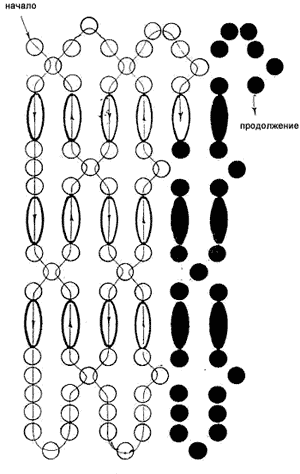 The only thing - at the beginning of the weaving and at the end of the dial on top of the two beads instead of one, then a necklace-the collar will shut down and eventually forms a smooth, beautiful circle. As for the colors of the beads and glass beads, will look spectacular combinations:

Glass beads - Golden short beaded black or petrol;glass Beads - silver short beads - black, Golden;
Bugle - "snowball", white, beads - white.
Of course, it's not all the selection of compatible colors.