Suggest you to start working on that this evening decoration. It is suitable for any fancy dress.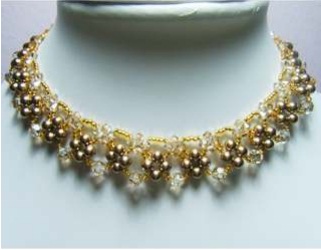 You will need:
Bicone
Gold beads
Golden round beads
Faceted beads
Fishing line
Clasp (optional)
Begin by making a chain of necessary length. It depends on how you want the necklace rests on the neck – if desired, it can be both long and short.
strung on fishing line bead, and then both sent to the tail of the fishing line bead (this part will be useful in the future for the zip, if you want to put the finished closure, then it may be omitted). This link should be in the center of your cut line. Next, string on the left tail of 5 beads and the right 2 beads, one round bead and 2 beads. Cross the tails in the next strung the beads.
Next step: string one bicone, and crossed the line in the next strung the beads. Then repeat rows of beads and bead. Alternating links with faceted bicone and beads.
So weaving until length will be suitable to you.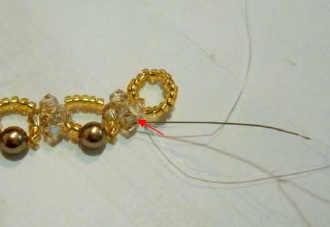 Now you can start to weave the second tier of our necklaces. This sent both tail the line in the opposite direction, so that one of them came out of beads last link, the second of the two beads in front of her.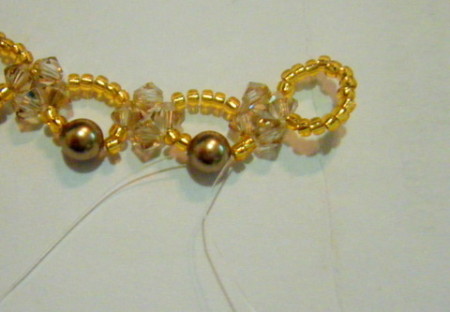 Strung on the right tail (he was just out of the beads) 2 beads and cross the both of the tail in the next strung busine.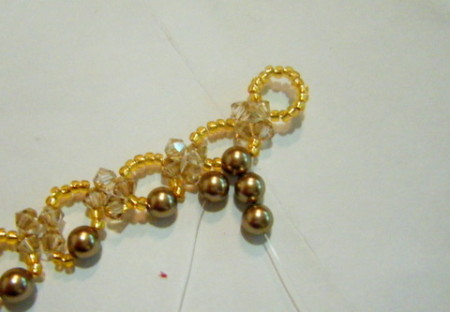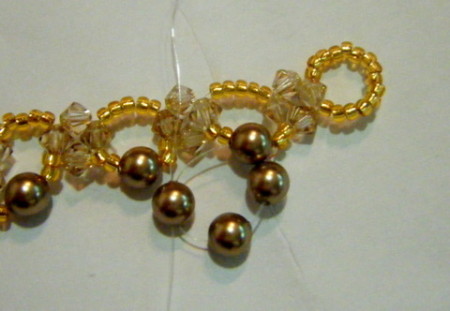 Next, we lower the tail is sent down through the two beads. Bicone and two more beads, now it needs to go next bead with the next link.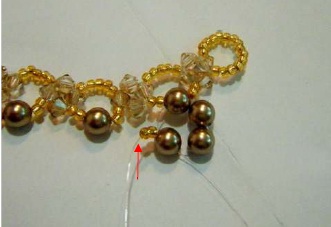 On the top string 2 beads, one faceted glass bead, and two beads. And crossed both of the following tail strung busine.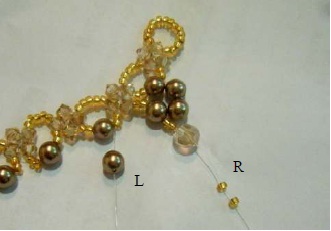 So you continue to weave until the chain, which we wove initially, will not end.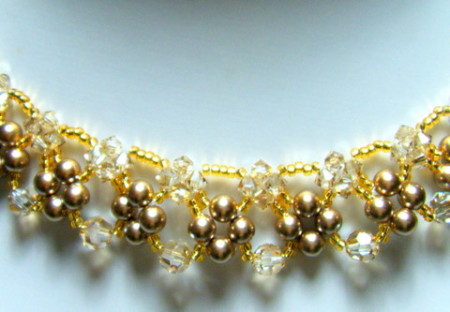 The clasp can be woven independently, as shown in the photos. But you can put ready. The fact that the closure bead is not completely reliable, and a necklace may slide off your neck at the most inopportune moment.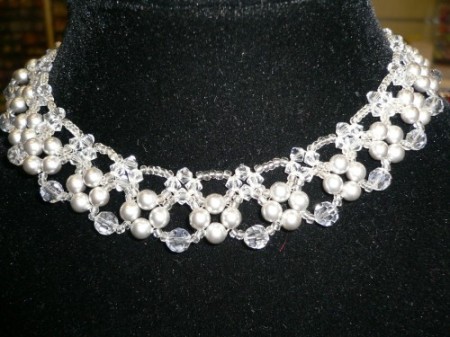 Tags: gold, necklace, Weave