Not so long ago shops that sell the beads and beads, there are unusual options that are very similar to spikes. Of course, they are not made of metal but of glass, but still, in splendid isolation, they look very aggressive. But we suggest using them alone and in combination with beads. The result is earrings, very similar to an ice cream cone.
Around here are the same beads, which we have today will be discussed. If you will do z prefabricated elements earrings, they will need only 2 things. But a string of beads or bracelet, much more, depends on the size of the finished product.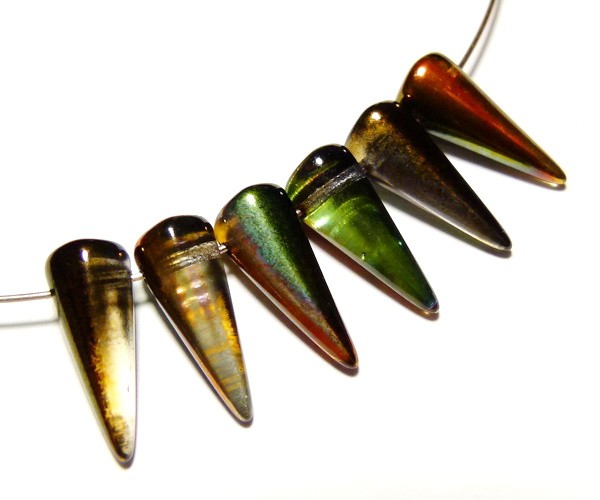 Apart from them, you will need beads, of different colors.
It all starts with the fact that we odletem the upper part of the spike. For this bead strung on a thread, and select the required number of beads to completely encircle the upper part. Divide this number into two parts, one strung on the right-hand thread, the second on the left. Then send the tails of the threads in the hole so that around the ship formed a beaded belt. To consolidate all of this – we pass on the beads in a circle several times. So you fasten it completely, and he will not leave his seat.
Next, we recall the netting of brick, and form a row of the same color of beads. And another one.
The next series will be from beads of another color and smaller size to form a semicircular shape ice cream.
Next, the formed arc, which will cling enclosure, for earrings. Everything else is a matter of your imagination. For example, at the bottom of the beaded ice cream you can make another row of smaller beads, this will enhance the rounded effect.
In a circle you can add more rows of beads using the same beads as in the beginning. So ice cream will be more dramatic and original.