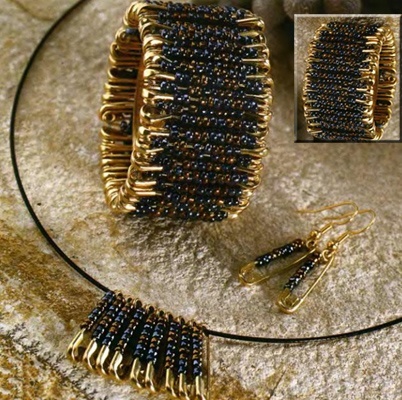 Beaded jewelry is very popular now, Teens often make themselves baubles, women and girls wear the bracelets, earrings and necklaces made in the technique of beadwork. In this article, we offer you to make jewelry set pins, supplemented beads.
You will need:
for the bracelet pins with a length of 34 mm,
for necklace and earrings — pin length 28 mm,
pendants for earrings,
elastic thread with a diameter of 1 mm,
beads,
the Foundation for a necklace — black cord with clasp
small pliers
Execution of work :

Strung on each pin 10 — 8 beads of different colors. For bracelet after stringing of the beads to the head pins slightly flatten with pliers so they don't come off. For a necklace to wear on the basis of the 9 pins with beads. For earrings mounted on each suspension on one pin. For bracelet stretch elastic thread through the round hole pins, pins positioning relative to each other "Jack". The thread to tie and fix with glue. So, jewelry from beads and safety pins ready.