We have you made ornaments out of wire and beads, and even studied the basics of such combinations. Now it's time to think about such ideas, and to make this interesting pendant.
The basis of the pendant we will include wire, two large beads with holes on the side. If you will not find such, will have to surprise my husband, and ask him to make you a few holes in the selected elements. Although, if you're handy with a drill, why not do it yourself. However, you will need beads, small beads, pencil, paper, and a lot of patience. And don't forget about wire – thick (major) and thin for weaving.
First, it is based on the sketch. You paint it on paper, in accordance with the proposed option. Later you can make your jewelry using the same principle.
After. As the sketch is ready, figure out what details we may need. They formed from thick wire, and applied to the sketch. Everything should be the same.
After the details are at hand, it is possible to assemble the product together. Here for this and will use thin and flexible wire for weaving beads. Start with the fact that sew the beads through the holes to the base. Do this carefully and slowly, the stitches should be even, neat, and uniform. Don't worry if the first time will not so gently, yet you still learn.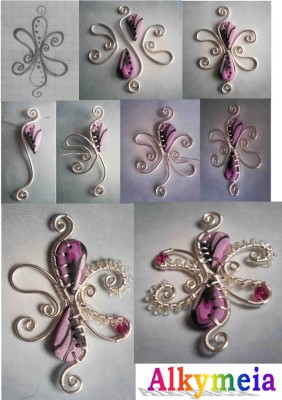 Gradually join the rest of the details. And we are starting to get nice picture – cute pendant. After all parts are assembled together, you can start the decoration. For this we use a thin wire, beads, and beads. Place them as shown in the pictures-the instructions, or at discretion.