I wanted to pack a gift for your fiance in a beautiful and unusual paper. Bright and shiny coloring that offer in supermarkets, I'm pretty bored, so I decided to do something different from them: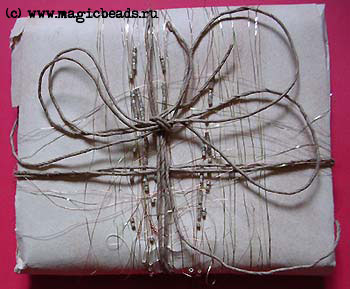 I took the rough brown paper (very similar to the one used in the mail, for example, parcels), wrapped it with a thin wire strung in the beads, and added a bit of gold lurex. Bow made all from the same mail paper rope. Turned out very nicely =)

You can make beaded some fun figurine and attach it to a gift box. You can weave a bead chain and tie her with a gift or attach along the edge of the box. The main thing here - do not overdo it, otherwise the box can become a second gift and will cease to be just packaging.