In this article I will tell how you can do here is be cute as a gift or just for your own joy. I've spent making this thing less than an hour, and how much joy it brought me - not to pass.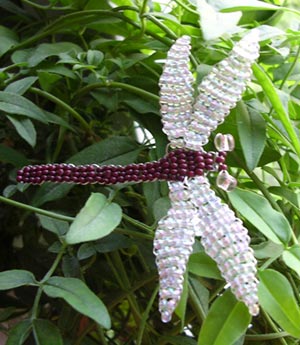 So let's begin the manufacturer of dragonfly. For wings it is better to choose transparent or silver beads. Follow wings in the technique of parallel weaving in the following manner. Make one part of the wing, the other make a little less and stay on the 2-3 coil to the end, as shown in the figure below: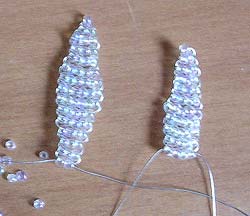 Now miss the extreme wire of the unfinished workpiece through the wire first part to the side, then follow a single row. Wings get linked with one wire. Again insert the wire into the loop first (finished) of the wing and run another series. Continue so to the end. This simple technique will help connect the 2 wings in one at the edge: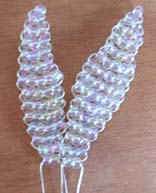 If you are unable to do it - you can make 4 separate wings and attach them individually, not in pairs. Body do using the same technique, starting from the bottom. Top-attach 2 beads - eyes: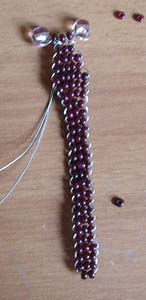 Then just connect all the pieces, jamming the wire ends of the wings between the loops of wire on the side of the body. Secure the wire depending on the desired result. I tied all the ends of the wire under the body of a dragonfly, left the tail with a length of 10 centimeters. Sort of turned the "wire stick", which helps the dragonfly to hold the leaves of the plant. You can also tie a dragonfly somewhere these wire tails. And you can just cut the whole wire, after making three revolutions under the body.