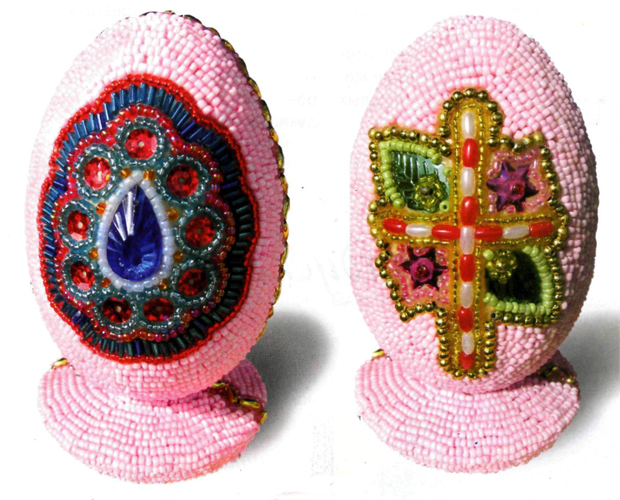 Egg bead "Holiday" refers to the lateral eggs. Here the main dividing belt is put on the workpiece vertically. The length can be measured in the usual way. After wearing a belt, free bead remains oval, to which you can attach the sticker, obrazok, rhinestones, etc. the Picture should be pasted after wearing the finished belt, symmetrically with respect to the boundaries of the remaining free space. By the way, it is worth noting not malawinet quality beads used with twining. Often mistresses prefer the Czech beads. Side eggs first, work with only one party, then continue
the beaded egg beaded
spiral from the belt as long as the beads will not close the border of the picture by 3-5 mm. Pull the last row, making sure that there was no thread.
Materials:
piece of wood egg with stand
beads round assorted colors medium size
the beads are round and in the form of rice of different colors
notched sequins of different shapes and colors
threads for sewing
glass beads blue
crystals in the form of drops or leaves
needle bead
PVA glue or rubber transparent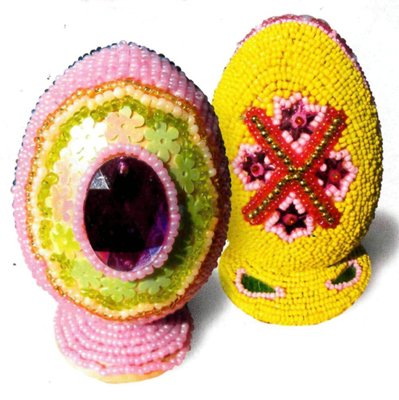 Execution:
Apply glue to the workpiece by the vertical band of width 1.5-2 cm Stick gold beads in the shape of a figure "zigzag." Get two free spaces in the shape of an oval. Leave blank so that the glue is completely dry. Then glue the rhinestone on the one hand and the cross of beads — according to the drawings. When the glue is completely dry, glue the beads and sequins round shape, glass beads using the needle, in the direction from the middle of the ovals at the given figure carefully pick the color of the material. Periodically leave your work for some time to dry the glue. After design patterns, attach beads pink Niscemi typing on a needle and thread the required number of beads (determined experimentally).
Note:
The beaded eggs-beaded
by bonding demands a lot of attention, patience and perseverance.