Continue making crafts for the new year holiday. And we have on the agenda a new ornament for the green beauty in the form of leaves, which are often used in Christmas arrangements.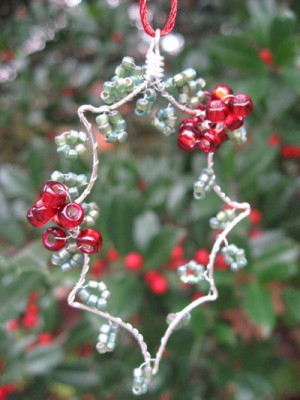 You will need wire of two types – a thicker, she will serve as the basis, and subtle (which may be included in the abalone beaded), beads of green and red colors, and tools for working with wire.
Start with the fact that drawing silhouette decoration on paper. This is necessary to ensure that the finished product was smooth, and symmetrical. Then take the wire and begin to bend it, focusing on the drawn pattern. Use thick wire. And the work begins with the lower part of the leaf.
And in the upper part of one end of the wire forming the loop, it will strengthen the rope, so that the decoration could hold on the Christmas tree. A second end wrapped around the first winding to turned out dense and smooth. Excess wire to be cut.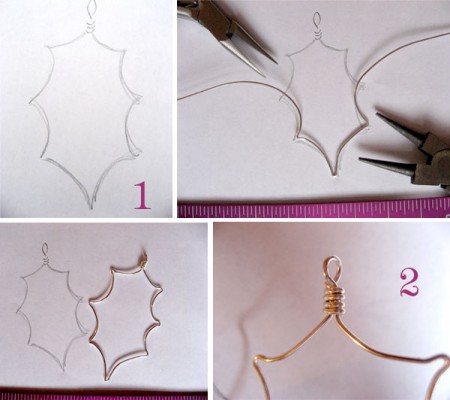 Then take a thin wire and green beads and begin to form green leaves. It consists of 6 beads, and located at a distance of about 1.5 – 2 cm Number of leaves depends on the size of the future toy.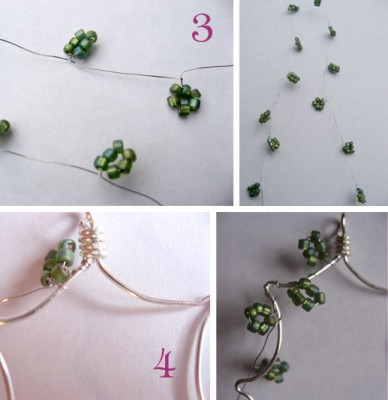 After low ready, wrapped it around the wire, ensure that the leaves were at equal from each other a distance. If you want to more lush decoration, the leaves should be larger, and the distance between them is less.
Now take a red bead and the wire and form berries. Cut from the roll of wire 2 cut and strung them on beading. To berries turned out beautiful, doing bead several beads as shown in the pictures. Alternated low of 3 beads with one.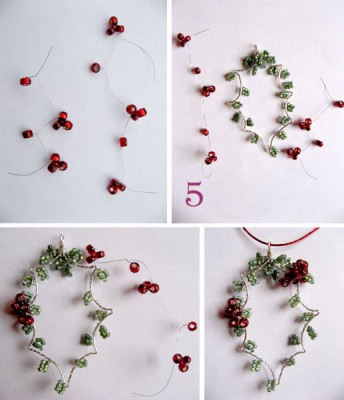 Now we have to fix them on the workpiece, and our Christmas tree ornament is ready.
So you can hang it on the tree branch, is threaded into the eyelet formed by the rope and tie. Have a nice holiday.