We continue to enjoy love-heart theme that will accompany us during the run up to Valentine's day. This bracelet will complement your main attire, moreover, would be consistent with this pleasant occasion.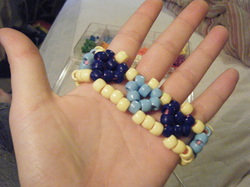 To work you will need large beads very large beads, the largest you can find. Then thick dense yarn and a needle. It is better to use a needle for knitting, it is convenient, and large enough for thick thread, placed in the holes of such beads-giant.
Strung on a thread 8 beads, and fix it all knotted up, knotted on a string. By the way, so you will come beaded leg opening outlines, in the shape of a heart. Then take the contrasting color bead, this shade will serve as the primary banding pattern.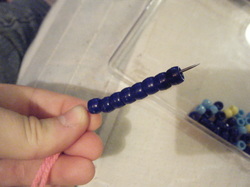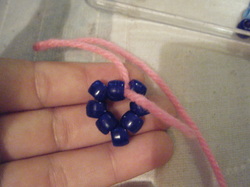 Bead should be located at the top of our heart.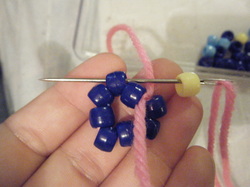 The following color — blue, after another strung beads 8 blue. Put the needle in the first bead strung in this heart.
So do until then, while our bracelet reaches the desired length. Better if the number of hearts will be even. Lock all this mess in a circle and begin to engage the lower part of the border.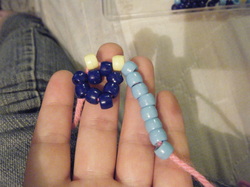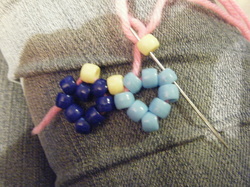 As the lower part of the heart consists of one bead, the number of light for the first row will be – 3. Next, we will ispolzuet 4 beads. Alternate number 3 and 4 beads until till we get back to the beginning of the circle.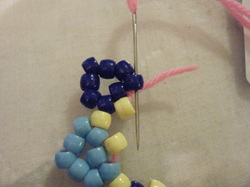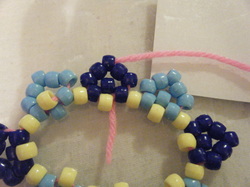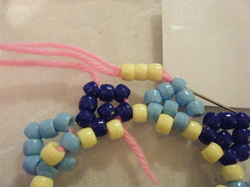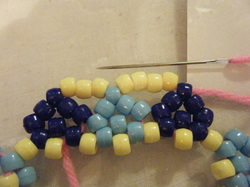 That's all, your new and original bracelet is ready. The principle of netting, just to ugliness, so again it will not be difficult. By the way, if you are planning to wear it themselves, you can give your favorite friend. Or even make two bracelets, one for themselves, another one – again, for a close friend. Nice to get a gift is not just a decoration, a hand made, i.e., exclusive. Such a bracelet more, no one will.