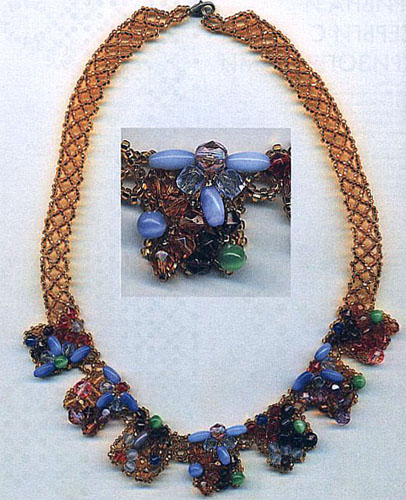 Material:
the Golden beads — 30 grams.
beads "cat's eye" in the form of "resin" — 21 pieces
beads — multicolored, faceted, different diameter, 105-107 PCs.
First weave the Central part of the base for the beaded necklace according to the scheme 1. Such elements — the "petals" should be seven. After the last item doplatit side of the necklace (see figure 2) the desired length to lock. Go back to the first "petal" and weave the second side to the first lock symmetrically. The next phase of work — embroidery with beads on a ready basis. The trajectory of the needle shown in scheme 3. The "petals" look smoother, if after the embroidery to podblast their perimeter with additional beads as shown in scheme 3. Beads choose arbitrarily according to your taste. Tsvetochno they form an intricate geometric pattern. This bead necklace will give your appearance a mystery.