Our whole life consists of pleasant things, which we purchased. But most of them we can do with their hands. For example, here is such an amazing, delicate keychain, in the form of an angel.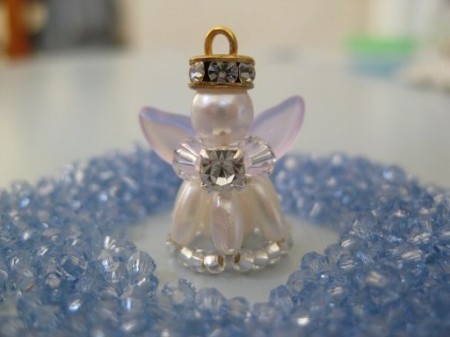 To produce and it is not difficult, as we instead of the usual schemes, we offer you a video tutorial, where explained in detail each step. The only thing you have to do yourself, is finding the relevant materials. To begin this, of course, beads, a few small mother of pearl beads, beads in the form of rice and beads, as well as fairly large and flat beads for the wings. Weaving will all be on the wire that the product is well kept shape.
And a bit of history of remote controls, that may or may not need to know, but very interesting. For every gift, presented in an unusual way, it becomes doubly enjoyable and original. For example, handing a close person to own the product, you can pay a little attention to interesting facts.
The history of this accessory goes back a few centuries ago. In the middle ages the wealthy citizens were hung on the chain coin. They became the progenitors of modern trinkets. Later coins were replaced by flat metal mug, engraved with emblems, coats of arms and mottos.
By the way, in those days wearing charms, but later, in the 18th century, they are firmly established in men's fashion. Every rich nobleman had more than 10 different trinkets on his chain. The most popular material was considered gold.
After just 100 years, the number of trinkets decreased significantly. And over time, they began to perceive it as a nice souvenir. Keychains gradually migrated to the keys and then mobile phones. After this metamorphosis they began to actively draw the attention of the eminent designers. First appeared keychains charms them more expensive products, designed to emphasize the status of the owner.
And in our age of high technology keychains remain at the peak of popularity. This applies especially to those products that have been made his own. Exclusive gifts analogues to find, occupy more and more place in our lives, and we invite you to join the manufacturers own remote controls, and start with this original angel.