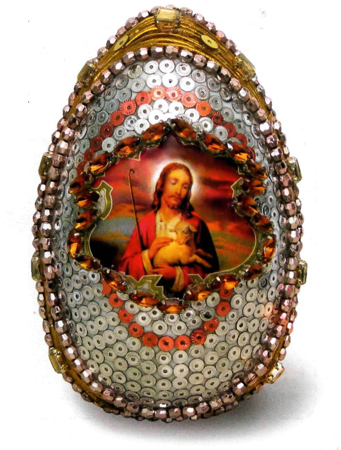 Every year on the feast of the Resurrection of Christ all the Orthodox people give each other painted eggs. If you want to decorate
eggs for Easter
to your crafts I wanted to keep for years to come, then come to the creative process.
Materials:
wood eggs white or natural color;
cord decorative Golden color.
multi-colored sequins of various shapes;
stickers-obrabotki;
beads faceted;
rubber glue type "Moment" or PVA.
Execution:
Both blanks glue belt width 1.5-2 cm in height. For eggs obrasocial Jesus (first) glue 6-8 turns Golden cord, and eggs with Mary (the second) — decorative cord glass beads with inserts. Was two free space oval on each egg. Put blanks for the glue. Then for the first egg pick up a bead for the top and a few sequins glued symmetrically in several places over the cord. Then glue obrabotki on both sides. After the glue attach sequins round shape, starting from the cord in the direction of the middle of the ovals on the relevant drawing, selecting colors (for eggs obrasocial Jesus first row consists of beads).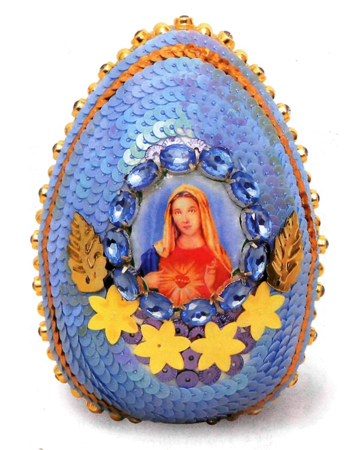 Finish framing of obrazaca chain of glass beads on the layer that will put on the cut labels. Don't forget about the breaks for glue drying! For the second egg and attach the second ball of curly sequins in the form of flowers under obrasocial. In this example,
eggs for Easter
pasted symmetrically on both sides paillettes, beads, etc. In the other case you can stick to one side one brusochek, for a second or two.
The secrets of