A tight bundle is woven in the same way as usual, with only one difference: in each loop set is one bead. Look at the picture and notice that the wiring becomes quite thin: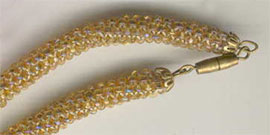 Pretty looks original harness about a meter long, made without locks. Puts it through the head, and on his chest tied the knot. Thus, we consider the scheme of weaving a tight harness:

In principle, a special explanation to give is not necessary. The scheme is quite clear: recruit 7 of the beads, make them into the ring, then string one bead. Weave until, until you reach the desired length.