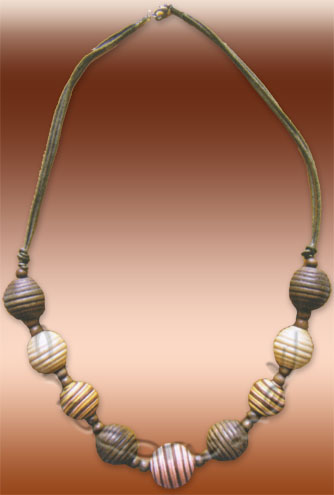 You will need: large plastic round beads combined coloring with transverse ribbing, large plastic round beads with transverse ribbing of laces matching the coloring of the same size as the first, small round wooden beads, covered with dark varnish, two split rings (6 mm in diameters), waxed cord of dark color, a pair of scissors.
1. Stringing on a string is performed in the following order: first and last beads small wood, the main part of the beads is made from a repeating pattern of beads. The first large plastic, then the two little wooden.

2. The back side of the beads will consist of lace, folded into three sections. Attach the ends to the main part of the beads using a split ring, tying a knot to the ends of a single cord.
If you want to make short beads, on one side, where the connection is being made between the front and rear sides of the beads, instead of the split ring is necessary to attach a hook back closure.
Another option is the symmetrical arrangement of the fasteners of any model in the back with slit lace in the middle; only in this case instead of the triple cord will need to take a single, or all three ends will not be able to fit in the binder clasps.