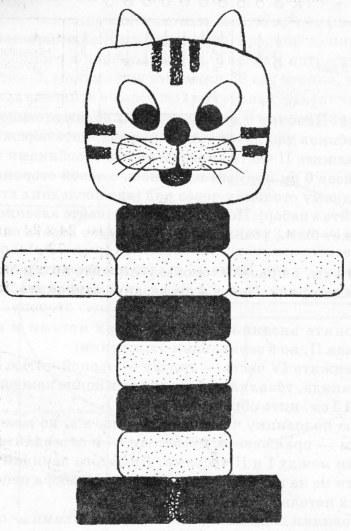 Prepare to work the needles, a hook, a yarn orange, brown, pink colors, scissors, needle, reel of thread.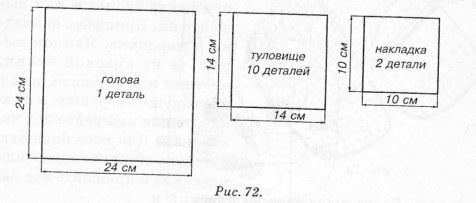 First tie spokes hosiery knitting 10 equal squares of size 14x14 cm of brown and orange threads; 2 squares of size 10 x 10 cm pink thread for applique faces and one square with a size of 24x 24 cm orange thread for the head (figure 72).on a soft Mat draw with chalk or soap squares 14x 14, 10 X10, 24x 24, prick them knitted squares with pins (figure 73 a) and otparit through a damp cloth. Each square fold in half inside out and sew on both sides of the seam "back needle" (figure 73 b). Turn on the front side, fill any filler and carefully sew the hole. The pads connect connection small slanted stitches (figure 74). For greatest strength the pads may be sewn between the two sides.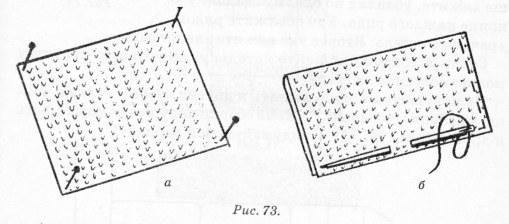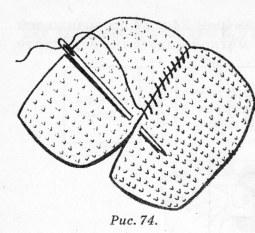 Now make a face. Stitch between the two pink cushions in the connection pull the thread tight.

Through lining pull line mustache. For specks sew beads or embroider them. Sew the lining to the face. Tongue cut out of red fabric, cloth or knit, as in the previous toy, and glue or sew under the lining. Nose big button obtyanite leather or oilcloth, and sew under the lining. Eyes cut out of cloth and glue. In the head tab brown stripes of the braid. Ears tie a hook. To do this, at the top of the head orange thread, tie one row of columns without nakida ear width 8 cm (figure 75). Then knit, subtracting one column at the end of each row. Ear tie next to "crayfish" loops. The second ear knit similarly.



To the back of the head sew a loop for which the toy can be hung on the wall.
Of the pads you can do and other animals — a lion, a hare, a mouse, a dog. Scheme of the Assembly of the pads may be different (figure 76, 77). Create your own variant!