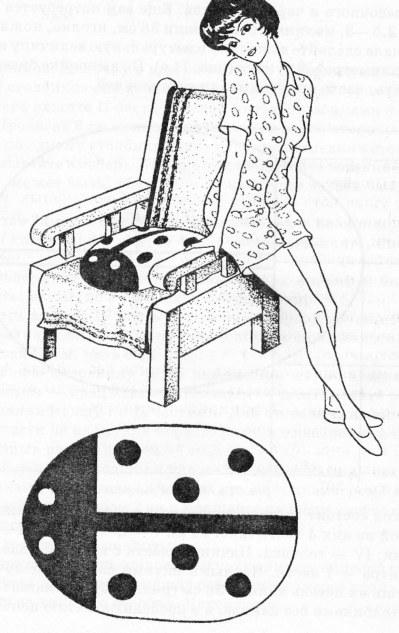 In such a case you can get a pillow and pajamas for the whole day.

To work, you can use any yarn (wool, synthetic, cotton), the average thickness of the red, camel and black. You still need a hook № 2,5-3 zip fasteners 38 cm, needle, scissors.

First, make a pattern in full size on a sheet of graph paper (figure 71 a). The pattern will be easier to knit, often putting the knitting to it.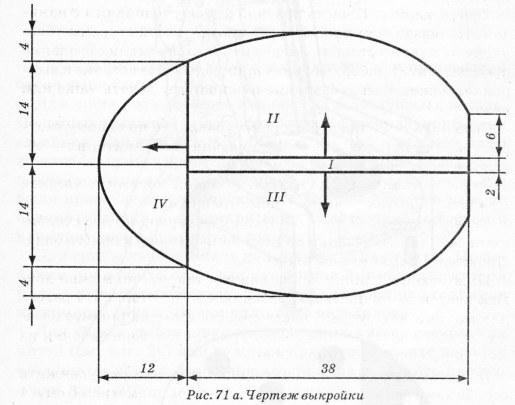 The case consists of two halves — top and bottom, each with 4 parts (figure 71 a): I; II and III — wings; IV — head. Start knitting with the upper half from the center of the first movement. Black thread tie a chain of air loops of length 38 cm (figure 71 b). Provarite one row of columns without nakida, while in the last loop of the chain -5 bars. The chain on the other side, tie another series of columns for the tail without nakida, the thread is cut.


Now knit part II red thread columns with nakida. Provyazat 6 cm straight blade with left hand take one column via row (last two columns promazyvaya in the kit). Often apply knitting to the pattern, maybe the decrease will need to do it more or less.

Linking 14 cm, on the right side take away one column in each row. After 4 cm knitting finished, cut the thread. Knitted flip the canvas upside down and knit part III as II, but in the mirror.

Now tie IV part — head — black thread columns without nakida, subtracting by 1 column at the end of each row. Provatas 12 cm, cut the thread.

The lower half of the cover knit as well, but in a different color — orange, sand — and leave a slit for the zipper between the first and second parts. To do this, start knitting the second part is not on the hinges of the first row, and set of a chain of air loops of length 38 cm.

Both halves of the pillow decorate spots — tie bars without nakida 12 black circles with a diameter of 6 cm and 4 orange with a diameter of 2 cm and sew them with a seam "over the edge" on the wings and head.

The cut vsheyte zip.

Now fold the two halves of the case together facing inside and sew them together, seam "over the edge". Turn on the front side. Case ready.