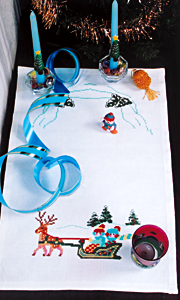 Size: 40x50 cm Size on the SC. 25.1: 92х52 stitch = 24х12,5 cm; the size of the embroidery on the SC. 25.2: 120х64 stitch = 31,5x15 cm
You'll need:
Canova white fabric with a weave 76х84 cells = 10 x 10 cm in size 55х65 cm;
embroidery floss in these colors (shown next to the diagrams);
embroidery needle.
Technique: cross stitch, CX. 25.1 and 25.2.
JOB DESCRIPTION
Fold the fabric along the line connecting the middle of opposite sides, and priotity. Starting work from the middle line and departing about 14 cm from the short sides of the fabric, do the embroidery on the SC. 25.1 (from one end) and CX. 25.2 (from another region). Embroider thread floss in 4 addition, capturing for 1 cross 2 cells of the canvas. Finishing the contours of trees and the line of snow on the CX. 25.1 to perform seam "stitching" thread turquoise color, and the contours of the trees on the CX. 25.2 — thread dark green color. At the end of the embroidery to align the edge of the fabric to the size 48х58 cm, leaving the embroidery right in the center, and do a double hem with a width of 2 see the Finished embroidery to iron on the reverse side through a damp cloth.