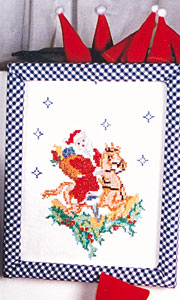 Size: 21x30 cm Size on the SC.15: 72х88 stitches = 13х16 see
You'll need:
2 sheets of cardboard the size of 21x30 cm.
Canova linen fabric with a weave density of 54 cells = 10 x 10 cm in size 30x40 cm;
embroidery floss in colors listed (listed next to the plan);
embroidery needle;
strips of fabric in a small cage for covering the frame, cut at an angle of 45 degrees — 2 strips the size of 8х23 cm and 2 cm size 8х32
Technique: cross stitch, CX.15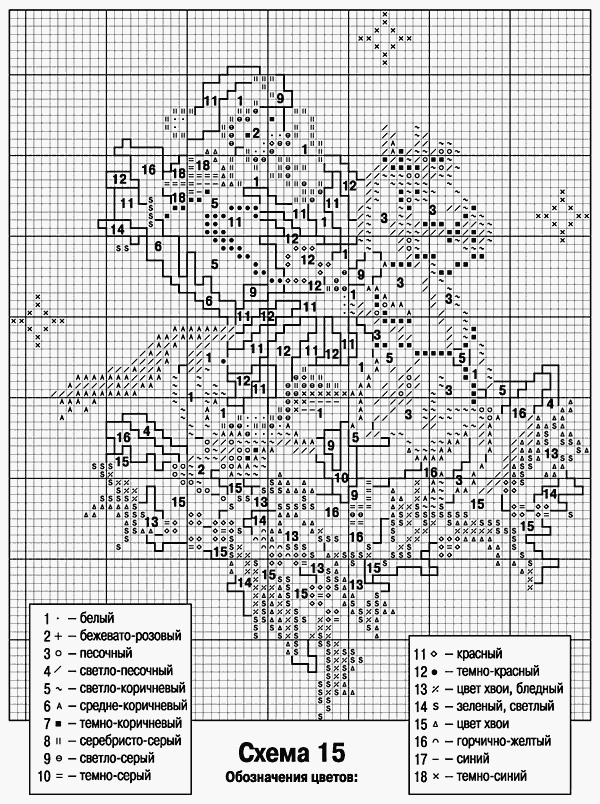 JOB DESCRIPTION
Embroidery positioning at a distance of 10 cm from the bottom edge of the fabric. Embroider thread floss in 2 addition — 1 x at 1 the cell tissue. Head over to Santa Claus further embroider several stars thread in dark blue, placing them in random order. The finished embroidery to iron on the reverse side through a damp cloth.
Cut excess fabric to the size 21x30 cm, neaten the edges and glue the fabric on the cardboard sheet. From another sheet cut out the frame with a width of 3 cm.
Bands of fabric stitched frame to fold in half lengthwise and priotity. Then place 2 strips right sides inside, and sew, as shown in figure 1, page 16. The excess tissue to cut, seams to resaturate. To pricecat to the items received 2 other bands. Detail of the twist angles from the front side priotity — received frame of fabric stitched cardboard frame, the dimensions of the outer contour — 21x30 cm
In the received frame to insert a frame out of cardboard and covered it with a cloth, turning inside allowances at the inner perimeter of the frame. Allowances to sew by hand.
The resulting frame to impose on cardboard with embroidery and pin with a few stitches.