You'll need
Scarf of thin material (crepe de Chine, Voile, Batiste) yellow or orange color; silk thread 2 addition white colors; scissors; embroidery needle; diagram of the pattern in full size; embroidery; tracing paper; transfer paper; pencil, awl.
Progress
The pattern on the scarf will be located at the edges and in the middle. It is made surface flooring with pakracani eyelets, seams "circle", stalked and looped with festoons.
Put the diagram of the pattern in full size on tracing paper. Put it on a fabric transfer paper, top, cover it with tracing paper. A simple pencil trace all the lines. Remove the tracing paper and carbon paper and pull the material in the Hoop.
Start to embroider from the Central pattern located in the middle of the scarf. First embroider the berries seam "circle". The contours of the berries panel simple stitches. In the middle of the contours of the awl make the holes. After that, the bent edge of the inside panel their gladeville stitches. Put the stitches pretty tight.
Petals embroider a straight stitch. Place the stitches along the petals. The middle of the flowers follow the seam "circle" in the same way as berries.
Flowers located on the branches, embroider satin stitch with "flooring". At first simple stitches indicate the contours of the petals. Then run a few parallel stitches across the petals. Then on top of them put gladeview stitches. In the middle of the flowers embroider stitches with pakracani. Bring the needle and thread in the center of the flower. Make the loop. Then pull the needle in the middle of the loops and make prakrama. The rest of the loops with pakracani also start with the center of the flower.
Large leaves embroider oblique surface. Why place the stitches at a slight angle. Small leaves do the loops with pakracani.
The strands of embroider stalked seam. Pull the needle and thread on the front side, make a diagonal stitch. Bring the needle with the working thread on the front side in the middle of the stitch, and pull the 2nd stitch near 1. the Rest of the stitches lay the same way.
Typesetting is one of the sutures applied in geometric patterns. In this embroidery, use thread of different colors. It is decorated with shirts and towels.
The edge of the gusset panel seam looped in festoons, performing the seam from left to right. Lay upright the 1st stitch and lay the thread down to the right and then up from the stitch, forming a loop. Start from the 1st stitch to the right side and make a stitch on the wrong side from top to bottom. The loop should remain under the needle. Tighten the thread and follow the remaining stitches the same way. The finished scarf iron on the reverse side through a damp cloth (Fig. 82).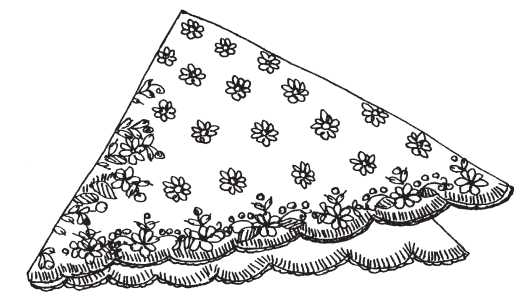 Figure 82. Solitaire