You'll need
Finished silk blue dress with no collar, round neckline; yarn floss in 3 addition grey, light grey, light orange, orange, lemon, blue flowers, embroidery needle, the scheme of the pattern in full size; embroidery; tracing paper; transfer paper; pencil.
Progress
Bodice silk dress is decorated with embroidery, arranged in a semicircle. We used the surface with "decks", with pakracani loops, knots, seam "goat", "doughnut", stalky, "back needle", false mesh.
Turn the circuit pattern on tracing paper. To the fabric place the transfer paper, the top cover with tracing paper. Sharpened pencil circle all the contours of the motif. Remove the carbon paper and tracing paper and pull the fabric in the Hoop.
The petals of a large flower in the middle of the pattern, embroider thread, light gray gladeville stitches. Lay them across the petals and very tight. Fill in the middle of the embroidery thread light orange color, starting each stitch is in the center of the midway and having them rays around the center. Near surface follow these nodules lemon thread. What needle around the working thread make 3 turns left-to-right. Then lower them as close as possible to the fabric and tighten. Only make 4-5 knots.
Seam "circle" follow the dots on the flower thread lemon yellow. The first panel outlines simple stitches. Then put "deck" horizontal stitches. On top of it make stitches the vertical surface.
On a large flower, follow the cornflower in grey thread in 3 additions. Simple put the stitches from the center of the flower. They should be of different lengths. Sepals are complete the surface with the flooring threads lemon colored. Route gladeview stitches, then on top of them and make the invoice a grid with pakracani thread of blue. Select the path sepals seam "back needle". Stitches on the face of the seam route in the opposite direction.
Under the big flower embroider middle flower with 8 petals thread in light gray. Put the petals along gladeview stitches
the direction from the edge to the center. On top of them in the middle of each petal embroider with blue thread, 1 stitch in the same direction. At the end of each stitch, make a knot exactly in the same way as the large flower. Likewise embroider 2 more flower on each side of the pattern. Only the top center stitches and the knots make the thread orange.
The strands of embroider stalked seam. The stitches lay at a slight angle, each following stitch, start in the middle of the previous one.
The small leaves make loops with 2 pakracani. Larger leaves complete gladeville slanting stitches. Large leaves complete the "goats", then panel seam "back needle". All the leaves run light grey thread (Fig. 81).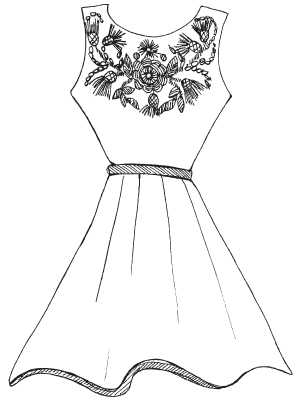 Figure 81. Dress with embroidered bodice