You'll need
Ready white blouse of a thin fabric (muslin, Voile, chiffon, delicate silk), with short sleeves and no collar, with a scoop neckline; threads of embroidery floss in 4 addition white color; embroidery needle; diagram of the pattern in full size; tracing cloth; awl; colored chalk.
Progress
The pattern will be located on the yoke and made a white satin.
In the motif used surface with a "deck", bilateral nodules, and patch meshes, loops with pakracani seams "circle", stalked and backing.
Transfer the motif from the scheme on a blouse with the help of tracing paper, sewing and colored chalk. Embroider the sepals of large flowers stitch with the "flooring". First, run a few parallel stitches along the details. Then on top of them, run gladeview stitches across the sepals thread in 4 additions. Petals complete bilateral surface, put stitches along the petals close to each other.
Kafasi — form of embroidery in which the pattern is made of vertical columns. Mainly embroider light thread.
It is used in combination with niz or a cross. Often catacora decorate shirts and children's shirts.
On the edge parts of the flower follow the knotted thread in 2 additions. What a needle obvate 3 times the working thread from left to right and tighten the knots, pulling them on the wrong side. Center complete the invoice grid. First, lay the stitches horizontally and then vertically on top of them. At the intersection make crosses. Mesh follow a thread in 1 addition.
Little flowers near a large flower embroider eyelets with pakracani thread in 4 additions. Bring the needle and thread in the middle of the flower and make a loop. Pull the needle and thread in the middle of the loops and connect with the quiet. The other loops start from the middle of the flower.
The middle petals of the flowers fill the surface with a "deck" just as much as large flowers. In the middle of the run the seam "circle". At first in a circle sew simple stitches, then in the middle make an awl puncture. Panel edge holes tight stitches.
Large leaves embroider by gladium roller thread 1 adding. Start to lay the stitches from the base in the direction from the edge to the middle. Then complete the 2nd half of the leaf, making stitches from the middle to the edges. In the middle of the leaves indicate veins stalked seam.
Medium-sized leaves follow the lining seam. On the front side lay the small stitches around the contour of the leaf and on the reverse — throw the needle and thread in one direction and then the other, forming eights.
Small leaves fill the loops with pakracani thread in 2 additions. The stems of stalked embroider stitch thread in 2 additions (Fig. 80).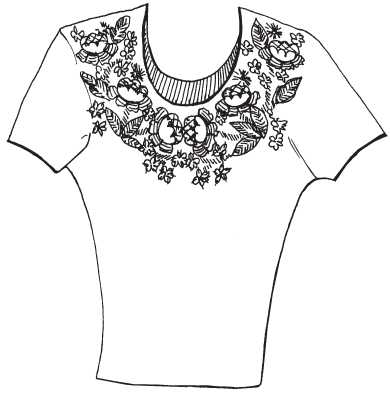 Figure 80. Summer blouse