Biscornu
(
schema
) is embroidered with a cross or embroidered with beads surround a product consisting of 2 squares of fabric (canvas) and rotated relative to each other at 90 degrees, these squares are sewn together along the perimeter and at the center point. Biscornu are basically used as a pin cushion with your hands, pendants or pendant. If you do a great biscornu, you will get the original pillow.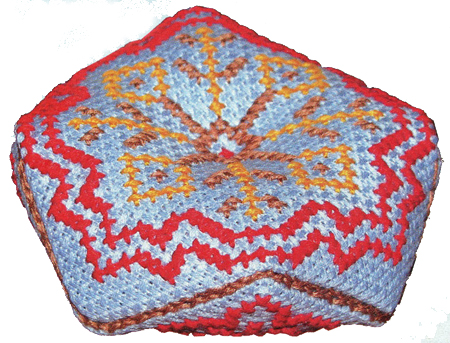 You will need:
canvas Aida blue color with a density of 5 cells x 1 cm
floss red, yellow and brown colors (embroider in 3 addition)
Execution:
For making biscornu (chart below) requires two square embroidery of the same size: full pattern for the top and embroidered only in the corners for the bottom side. Embroider the upper part of the biscornu. Panel embroidery with nextitem (seam "back needle") in the form of a square. Embroider and panel nextitem the lower side of the biscornu. Trim the fabric leaving a small seam.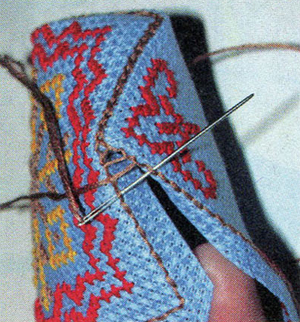 Sew both parts to each other so that the angle of one of the parts were in the middle of the second part, and Vice versa. Leave a small opening for stuffing filler. When knitting podavaite only the strings of backstich, seizing the cloth. Through the hole put in the cushion filler, and then finally stitch the two parts. The center of the top and bottom and sew through a long needle, pulling a pillow in the middle. Here you can sew a decorative button or bead, in this case an ordinary cross.Roxanne Markushina