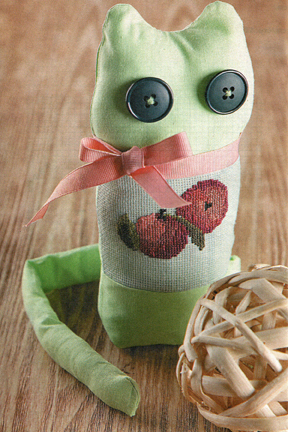 You will need:
canvas Aida No. 14 green of size at least 11 x 9 cm
green calico, measuring at least 27 x 22 cm for the torso and 7 x 30 cm for the tail
sewing thread matching fabric
tape a length of 35 cm
soft filler for stuffing (holofayber, sintepon)
2 buttons
bag with sand or stones
scissors
the Hoop
needle sewing
tapestry needle
embroidery floss, cotton (see table)
Execution:
Embroider the picture according to the scheme of embroidery floss in four additions in the technique of "full cross". Amperite embroidery.  
Cross stitch: fruit apples
From a long piece of calico sew the tail: fold in half, stitch, turn, stuff with filler.  
Make the material according to the pattern of the cat (2 rectangle with ears), one part cut in half and vsheyte striped canvas with embroidery. Cut off the excess length, connect with the second part. Don't forget to sew the tail. Stuff the body two thirds of the filler, and the remaining third put a small sack of sand or stones. Fold the edges of the envelope and sew. Sew eye buttons and tie a ribbon, attach it a few basting stitches.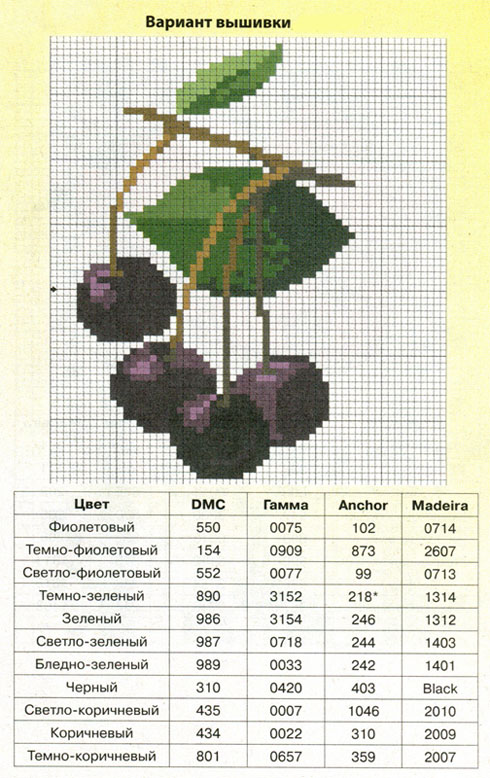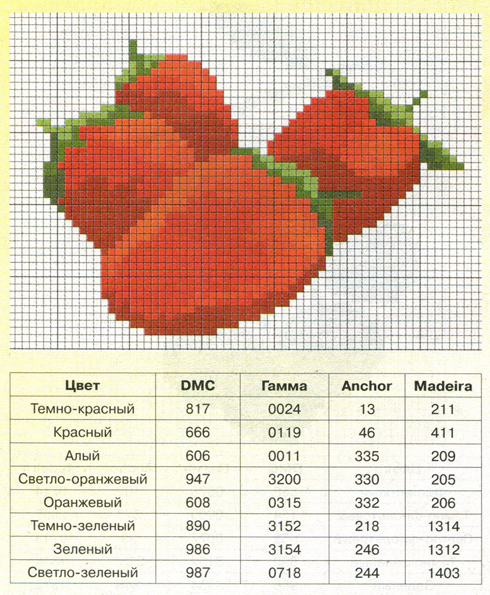 Now the cat is gatekeeper ready for work. Haven't guessed what his job is? It serves as a doorstop.Heavy sand gives it stability and a long tail stretched under the door, lock the location to which the doors are allowed to open. And cross-stitch (fruits and berries) on the body of the cat, makes it elegant and unusual.