When performing basic patterns stuffed way sometimes receive the tuck of the waist line (figure 355) very deep and convex.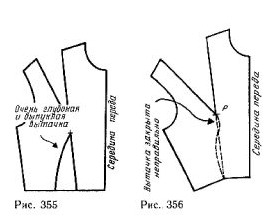 To close this tuck when transferring it to another location is difficult. This is stated below.
Put on a sheet of paper the curve of the front bodice with the same tuck (depth 6-8 cm). Close the tuck of the waist line 2 cm below point R. Cut the pattern on the first line of the tuck.
Both parts of the curves join at the lines of Darts, closing it. In this case, one line of Darts comes to the other (figure 356). If this reduction of the width of the bodice noticeable (less than 0.5 cm), it is necessary to combine line tuck only at the end (figure 357).
Received tuck breast longer than usual and ends a curve. It does not matter for models of this type.