Ready patch pockets attach to the product a finishing stitch or a hidden stitch. The product is pre-scheduled location of pockets, which I specify during the fitting. It is a mistake to think that patch pockets are the most easy to handle.
Patch pockets can be located in the topography of the skirt (figure 183) or attached to the product, as shown in figure 184.
To complete the pocket in the relief of the skirt ( see . figure 183) on the pattern front panels mark the edge of the pocket (figure 185). If necessary, move the Darts in the skirt. If the pocket should be slightly behind the product, fix the line of the side cut and lengthen the top line of the pocket.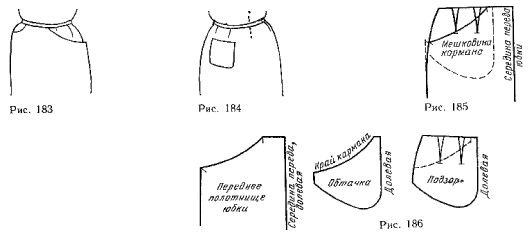 Close the tuck on the valance. Draw the line of burlap pocket. Burlap, is shown in figure 185, has a rounded shape at the bottom. This rounding allows you to connect both parts of the burlap and the backward pocket.
Patterns of all three parts put on separate sheets of paper, mark the Darts and the notch (figure 186). All three parts are cut from the same cloth.
During the processing of a pocket first, sew Darts and get the detail of the skirt and the facing. Then connect these details with the burlap