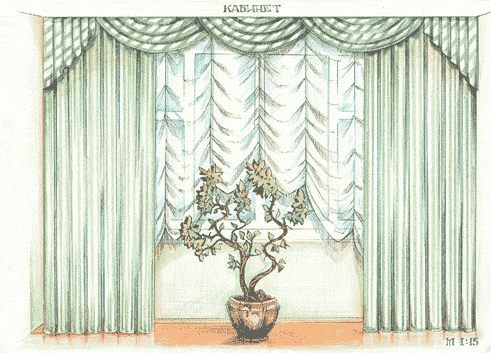 Sketch curtains "the Marchioness"
Curtains not only provide a safe shelter of Your private life, but also serve as beautiful décor.
Wavy French curtains look magnificent, Grand, pompous. They not only completely cover the undulating folds of a semi-circular window opening, but with a special ledge with a lifting mechanism to gather up, forming a lush, draped pelmet.
French curtains are usually made of soft, light, transparent fabrics. If desired, curtains can be supplemented with heavy curtains. The edges of the curtains, usually decorated with ruches, ruffles, fringe, tassels.
In the manufacture of blinds on the top slice need to make Darts for all vertical guide lines for the formation of draped folds immediately after tightening the mounting tape on the top edge of the curtain and to the curtain hung vertically and did not converge to the middle. The depth of the tuck depends on the height of the curtain. The longer the curtain, the deeper and longer the tuck.
Step is the distance between the rails, the lines of which is sewn a narrow mounting arm rings for cords up mechanisms.
Step width assembled - 25 - 50 cm In the case of very great height Drapes (over 4.0 m) step width can be up to 1.0 m.