The office - Japanese panel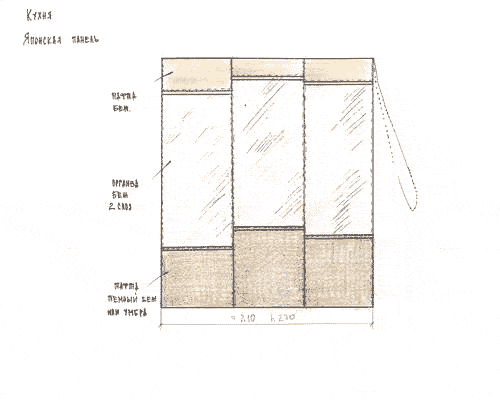 Sketch - Japanese panel
Japanese panel serve in a modern interior not only for decoration of window openings, underlining a particular stylistic solutions, but also to separate different areas of space. For example, a dining room and a living room, bedroom and computer area in the children's room, kitchen and dining room, etc.
The Japanese panel is a narrow (width 1 m) rectangular canvas, which are mounted on a special ledge. Each panel with Velcro-Velcro mounted on its own rail cornice, which gives the possibility to move the canvas and to modify the design. Panels can be arranged in one line, to breed in different directions at the edges of the ledge, positioning "ladder" one after another, or completely make over one of the paintings, providing a high lighting or passage. Calculating the width of the pane along the eaves, especially at window openings, it is necessary to consider that each edge of the blade should extend beyond the edge of the previous 5 see It is necessary that the lateral distance between the panels did not miss the light of day.
Example:
the length of the eaves 2.50 metres
2.50 m : 5 (panels) = 0.50 m
0.50 m+ 0.05 m (length) = 0.55 m (in finished form)

The Japanese panel is a kind of flat curtains, so they need to look hard and forced.
The bottom kuliske, insert a special weighting so that the curtain is not deformed (not draped), and has kept the look of the stretched frame.
To make the model recommended from the dry, hard, not stretchable fabrics (header, knitwear).
In the side seams of the panels you can also insert hard fiberglass insert (purchase when buying a cornice) or to glue their proclamined, interlining, to avoid a stretched, wavy side seam of the curtains.