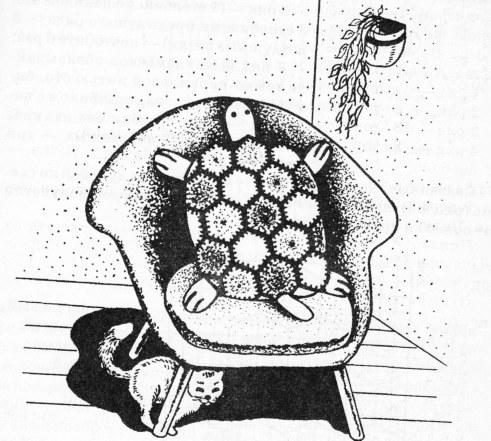 You will need: yarn of medium thickness white, beige, sand, brown and dark brown colors; hook number 3; backing cloth brown 40x 45 cm ; needle ; 2черные buttons for eyes ; scissors.
The turtle shell consists of 19 items related to the same pattern (figure 85), but the colors are different: 7 elements in brown, 6 — sand, 3 — beige, 3 — white.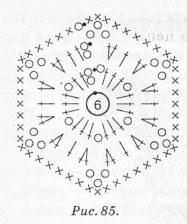 For crochet item tie a chain of 6 loops, lock in the ring.

1 row (3 columns with nakida — 1 air loop ) — repeat 6 times the circumference of the ring.
2 row (5 columns with nakida over 3 columns of the previous row — 3 air loop) — repeat 6 times.
3 row all elements objazyvaet dark brown thread to the columns without nakida: the column with nakida — single column without nakida, under a chain of 3 air — three columns.
Related items amperite and stitch connection (figure 85) seam "over the edge" grabbing half loop from one needle and another element.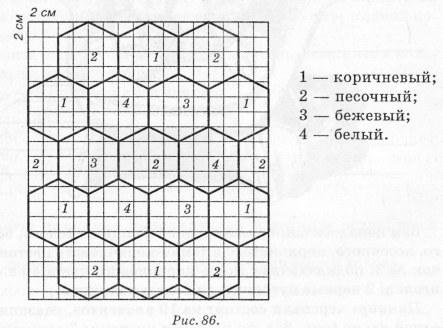 The lower part of the shell vykroyte cloth with increase to the seams at 1cm and sew from the top. Pillow stuffed with the drive.

Paws. Beige thread to tie a chain of 10 loops (6 cm long). In each loop of the chain link one column with nakida (figure 87), the last of the air — with 5 columns. Turn the knitting and provarite columns with nakida from the other side of the chain, inserting the hook under the rest of the thread of each loop. In the second row under each column of the previous row knit on one bar, and the rotation in each of the three columns provarite two columns 26 columns. In the third row add another three columns to turn — 29 columns. Fourth row bind without additions, and in the fifth row reduce three columns on the turn (miss three times on the same column). Similarly, tie three legs. Each paw sew along the inside seam "over the edge", turn on the front side, stuff with filler. At the ends of the bobbin and black thread and embroider the claws, slightly pulling the thread. Sew to the body.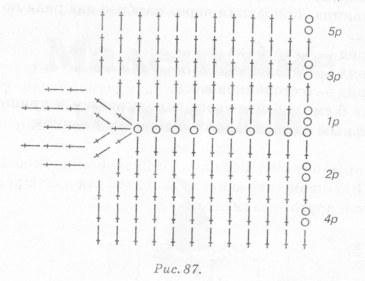 Head tie, like paw, only the chain length increase to 8 cm Ready strip stitch, fill with filler at the end a little more, a little pull at the neck, sew buttons for eyes. The head sew the pillow under the center of the three front element of the shell.
Tail. Beige thread to tie a chain of 3 loops, tail in a circle. Then knit in a circle by columns without nakida, adding after every two rows in one column.
1 and 2 row — 4 column
3 and 4 row with 5 columns
5 and 6, row — 6 columns etc.
Linking 6 cm, tail tamp the filler and sew under the center of the three rear element of the shell.