First select the style and size of the basket (figure 44), or think for yourself. On a sheet of paper draw a basket and cut it. Ready template circle on a piece of plywood and cut out using a jigsaw or cut out of heavy paper, cardboard, old box of chocolates and glue the self-adhesive film with a pattern "under the tree". Make holes with an awl or hole punch, and in the plywood drill a hand drill and clean the sanding paper.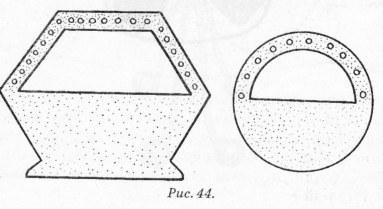 For registration of any basket tie crochet flowers, leaves of different shapes and connect them together with a chain of air loops of different lengths or twisted cords that attach to the holes of the basket with strings or wire.

In lieu of flowers, the basket can fill with any berries, fruit.