These are the same columns with nakida, but they differ in that during the knitting of the columns, starting from the second row, the hook is not injected under the loop, and between the columns of the previous row.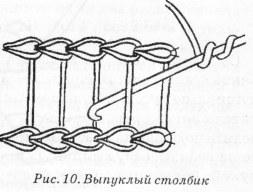 If the hook to enter between the bars on the front side and around the stake with a hook at the back (figure 10), we get the convex column, and if the hook to enter from the wrong side and around the stake with a hook on the front, it is concave the column (figure 11.). In the diagrams of the patterns denote the convex column in the form of a small column with nakida with a hook at the bottom

. The icon is similar to the figure 5. And the concave is the same icon but rotated in the other direction

.