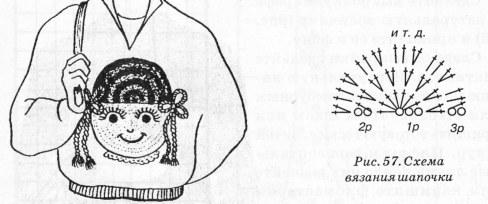 For the face, white or pink crochet thread to tie a chain of three loops and close into a ring with prostovisa without nakida. In the ring link 16 columns with nakida, lock the circle. Knit next round as usual, increasing the number of columns until you reach the desired size (it can be anything).
Cap tie a red thread on the diagram (figure 57) and sew to face the semicircle.
Braids and bows is a chain of air loops. Tie brown and yellow thread and sew from the beginning of the cap. At the ends of the braids strings fan.
For eyes and nose, sew beads or small buttons. Embroider mouth with red thread chain stitch, eyelashes — seam "back needle".
Sew the applique to the product. Instead of a collar can sew a piece of lace braid.