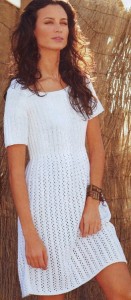 Delicate summer dress knitting like romantic girls. It is simple, so even inexperienced mistress will be able to perform this product.
Size: 38-40
Materials: white yarn Americano 650 g (100% cotton; 120 g / 50 m); straight knitting needles number 4; hook number 3.
Garter stitch: front and purl rows knit facial loops.
The front surface of: facial series — facial loops, purl rows — purl loops.
Openwork stripes and pintucks pattern: knit by the scheme.
The density of knit: openwork stripes: 20 loops/28 rows=10 cm x 10 cm; pattern with tucks: 28 loops / 44 rows = 10 cm x 10 cm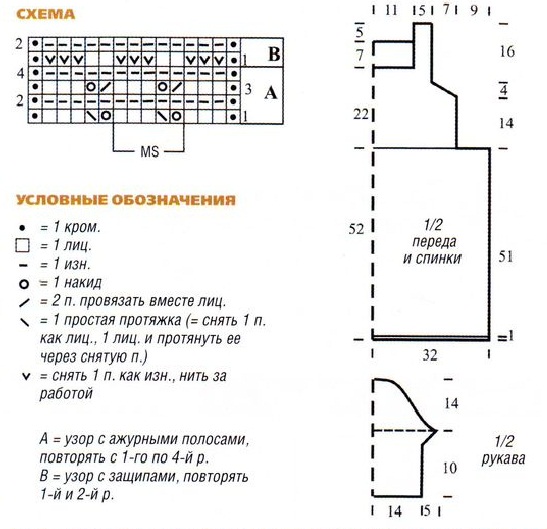 Before: recruited 130 loops, and knit 4 rows of garter viscous. Now knit pattern with open-knit stripes on the scheme, but start with loops before rapport, knit into the right amount of rapport and finish the knitting loops after rapport. After 52 cm from the start nabinagar binding pattern with pintucks (narrowing of a cloth happens due to the change of the pattern cut loop is not necessary), after 14 cm from the beginning knit pattern begin to cakravati loop with two sides 10 times for 2 loops. Will remain 90 loops. After 22 cm from the beginning of zwiazane pattern with pintucks close to the average of 60 stitches for the neck, while promazyvaya 2 loops along the front surface. 15 loops at each end of knit pattern with pintucks for a further 12 cm from the level of the neck, then close the loop again promazyvaya front loops together 2 times.
Back: Knit symmetrically, but at a height of 29 cm from the beginning knitting pattern pintucked neckline close to average 60 Golovin loops are finished then another 5 cm for the remaining 15 petesch with kazhny region. Next, close the loop as in the front.
Sleeve: 64, Dial loops and knit 1 purl row facial loops add 16 loops evenly. Remains 80 loops. Knitting pattern with pintucks. 10 cm after the loop set begins to knit the front stitch. For lifts the shoulders begin to cut the loop in this order: on both sides 3 times at 2 loop, 16 times for 1 loop, 1 time for 2 loops, 1 time for 3 loops in each 2-th row. Close the remaining 26 loops.
Assembly: perform shoulder and side seams, the seams of the sleeves. To sew the sleeves. Neck tie crochet 1 row of the column without nakida.