You'll need
Linen fabric beige, length 60 cm, width 35 cm, thread floss in 2 addition, brown, scarlet, red, brick, solicitaciones, dark brown, dark yellow, black; embroidery needle; diagram of the pattern in full size; tracing paper; transfer paper; pencil.
Progress
Transfer the pattern on linen beige. Turn the pattern from a diagram in actual size on tracing paper. Then secure the front side of the fabric carbon paper, she put the tracing paper and pencil guide on all lines of the motif. Remove the tracing paper and carbon paper.
We use smooth surface with the flooring, the joints stalk-like, "forward needle", "cords", bundles, gladeui the roller.
At the 1st stage embroider the berries of Rowan yarns scarlet and red colors. Sew a seam "forward a needle" the contours of the berries. Simple stitches complete the berries, making a "deck". Close it surface. Stitches are put across the "flooring" is very tight. In the middle of the berries make additional stitches, making the berries more prominent.
At the end of each berries follow knot black thread in 2 additions. Pulling the thread on the front side. Keep the needle horizontally. Around her obvate several times working thread from left to right. Then push the needle into the fabric near the point of exit of the thread and gently pull the working thread, tightening the knot.
Leaves complete by gladium roller threads the brown and yellow tones. First select the contours of the leaves of conventional stitches. One half of the leaf follow a dark thread brick and brown tones, the 2nd half is a lighter, Golden brown or asks in tone. Start to fill the leaf with its base. Put the stitches from the edge to the middle. Second half run from the tip to the base of the leaf, the stitches run from the middle to the edges. Emphasize the tips of the leaves stitch in dark brown thread. In the middle highlight the veins stalked seam also temnokozhimi threads in 2 additions. Lay the stitches on the diagonal, starting each next stitch in the middle of the previous one.
Thin twigs will perform stalked seam thread black color 2 addition. Thicker twigs embroider seam "shnurochek" dark brown and brown threads. First, lay a loop of stems of conventional stitches. Then every stitch of obvate working thread from the bottom up (Fig. 71).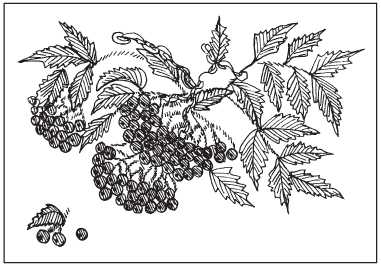 Figure 71. Panel "a Sprig of Rowan"