You'll need
Flap silk fabric dimensions 23 X 31 cm; fabric lining size 23 X 31 cm; interlining adhesive fabric dimensions 23 X 31 cm; thread floss in 2 addition lilac, light lilac, dark lilac, green, blue-green, dark green, dark yellow flowers; embroidery needle; diagram of the pattern in full size; embroidery; tracing paper; transfer paper; pencil; zipper length 18 cm; faux pearls.
Progress
Embroidery will be located in the lower right corner tip. It is done with shadow stitch, "flooring", and the split, knots, stalked, chain stitches. Some flowers are embroidered with artificial pearls.
Put the diagram of the pattern in full size on tracing paper. Then transfer the motive on the cloth, departing from the right bottom edge 2 cm, using tracing paper, copy paper and a simple pencil. Tuck flap silk fabric in the Hoop.
Start to embroider with flower located in the corner. Complete the direct gladeville stitches petals of violets, starting at any stitch in the middle of the flower. Each petal embroider separately from each other. The first row of stitches run dark purple thread. Second row purple embroider thread, complete petal svetlokoricnevykh thread. The middle complete the knotted thread yellow color 2 addition. Pull the needle and thread on the front side, hold the needle parallel to the fabric. Around her make a few turns of the working thread. Push the knots to the tissue and tighten, finishing the stitch.
Leaves embroider satin stitch in split blue-green thread in 4 additions. First designate the edges of the leaf simple stitches. Then I fill in the "flooring" performing stitches along the leaf. In the middle of the piece lay in some parallel stitches. Then run the surface, filling first the integer part of a leaf, then 1 half, then the other. Put parallel stitches between the stitches.
Embroider sprigs stalked seam with green thread in 2 additions, starting each stitch in the middle of the previous one. The stalks run the dark green threads in 2 addition chain stitch. Start with the base. Form a loop and pull the needle in the middle. Needle
must be on the thread. The following loops run in the same way.
Sew faux pearls in shape of flowers among violets.
Duplicate the main part of the cushioning adhesive fabric. Fold the embroidered detail in half inside out and sew short cuts. Backing cloth also fold in half inside out and stitch the short cuts. Remove the bag from the main fabric on front side, smooth the corners. Attach the lining to the main fabric. Open sections of the main fabric and lining tuck on the wrong side, put in between the braid-zipper, baste. Sew the zipper to the purse, at the same time grinding off the exposed slices (Fig. 88).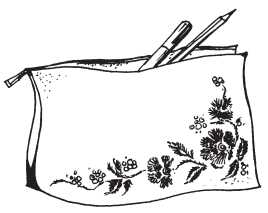 Figure 88. Cosmetic Bag "Violet"