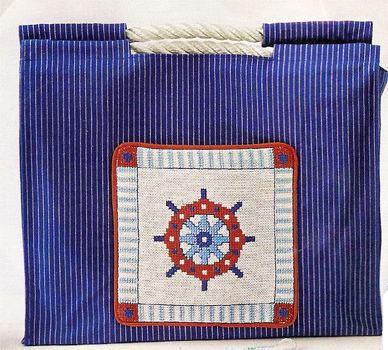 Create a mood of holiday, and this will help a little cross stitch nautical theme on the favorite bag.
Materials:
White fabric for embroidery (100 threads/10 cm)
Floss
Red (A) white-blue (D) x/cotton fabric
White cord with a diameter of 15 mm
A little cross-stitch floss in 3 addition, capturing the 2 x 2 threads of the fabric, and the seam "back needle" in 1 thread.
Bag size 28 x 25 x 7 cm.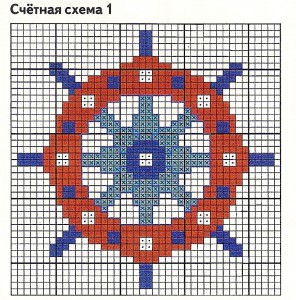 From fabric D will have plenty of 2 main parts bags (front and inside) and 2 strips for the side walls. Of fabric And make some square 16 x 16 cm for the inner side of the pocket. On fabric for embroidery 20 x 20 cm embroider the motif according to the scheme 1 and the scheme 4, embroidery, cut to a size of 16 x 16 cm and sewn. Fold the details right sides, between them on the edge secure the braid. Sew, leaving the bottom of a small hole. Turn, sew the hole, took the band. Sew the pocket on the markup to the main part of the bag. The front and inner side of the bag fold the right sides and sew all sides, leaving a small hole. Every strip for side panel fold across the front side in long sections sew - it has two sides. All the details turn out, sew the holes Tutuila. Pin the sides to the main part of the bag, aligning the points S and V, sew in place. Drawstring for the top of the valve half-tuck on the inner side and prostrochite. In kulisku pass 2 white cord with a length of 30 cm and fasten the ends with glue and tie knots.