The direct tie is used for strengthening the ends of the slots of the hinges, giving the reliability of the pockets for decorative purposes.
Curly clips put at the end of the counter folds and is most often used as a finishing.
Thread loops are often used in baby clothes, when it is impossible or impractical to perform serged the loop, as the details is in a locked position must lie butt to each other and not overlap. The implementation of clips and loops the following:
To perform direct clips , first lay two or three longitudinal binding threads are perpendicular to the end of the cut pockets or loops, and then wrap them cross stitches, grabbing the fabric. The frequency of these 7-10 stitches per 1 cm Length of tie 0,3-1,5 cm Transverse stitches should be covered both sides of the longitudinal fastening of the stitches (i.e. the setting must be identical on the obverse and reverse side). Pockets the length of the clips should be equal to the width of the framework, and hinges - the width of two overlock stitches.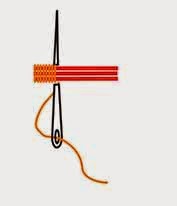 Implementation figure set is reminiscent of embroidery. detail nativesa in the Hoop, draws the region set (equilateral triangle). Curly clips in the thread have solid fills. Perform tie silk (crewel), No. 3-7.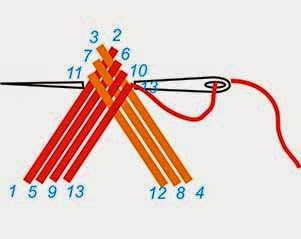 Execution of the thread loops is reminiscent of the process of making a direct tie, but the longitudinal stitches are located only on one side of the material. obuhivka longitudinal stitch is made in accordance with the technique of buttonhole stitches. The number of stitches that form a loop: trailing 4-7, 10-15 wrapped around (1 cm of the loop), pinning 2-3.